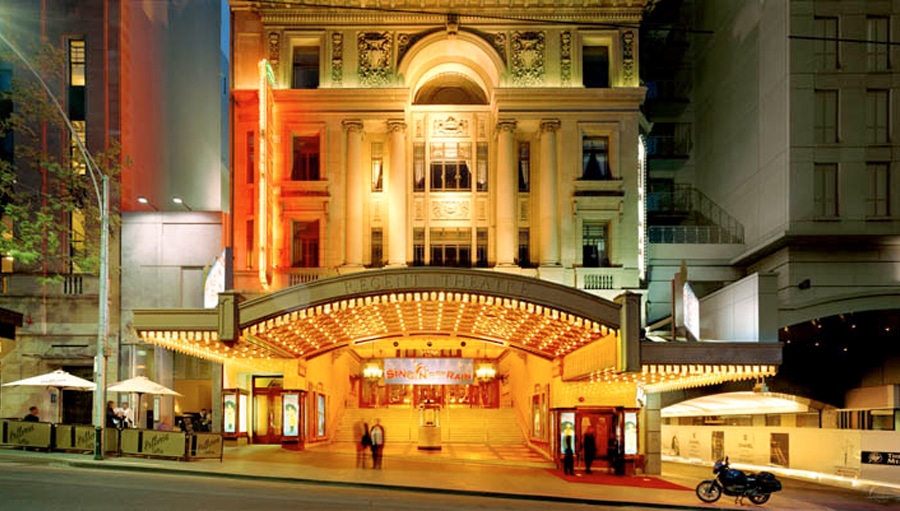 Mariner Group Projects
Mariner Group encompasses five prestigious iconic Melbourne buildings, being the Magnificent Regent Theatre, Forum Theatre, Princess Theatre, Comedy Theatre, and the Plaza Ballroom.
Safeguard Locksmiths was responsible for the design and installation of all Mariner Group's master key systems across all five theatres. Our highly skilled security advisers worked closely with all stakeholders to provide a complete range of door hardware and master keyed cylinders to compliment the original historic fittings. The products installed provided both security and functionality whilst compiling with all the relevant building codes.
The landmark Regent Theatre holds a key part in our city's history since opening as a grand picture palace in 1929. Having survived a fire, a flood, twenty years in darkness and many threats of demolition to turn the magnificent theatre into a car park or tabaret, the venue reopened in August 1996 meticulously refurbished and returned to its breathtaking former glory.
Today it stands more lavish and grand than ever. With seating for up to 2,145 patrons over two levels it is one of the most magnificent auditoriums complete with original chandeliers, bespoke original features, luxurious seating with plenty of leg room and a beautiful proscenium.
Melbourne's iconic Princess Theatre is regarded by many as Melbourne's most spectacular landmark. Dating back as far as 1854, the theatre was purchased by Marriner Theatres in 1986 and plans were put in place for its total refurbishment and to ensure its future viability as a live theatre venue. The Princess Theatre reopened in 1989 with the musical 'Les Miserables' followed by 'The Phantom of the Opera' which established a new record for the longest-running show ever staged in Victoria.
The theatre can currently hold up to 1500 patrons over its three levels: Stalls, Dress Circle and Grand Circle. The original chandelier and many of the building's bespoke interior features are still in place.
Melbourne's Comedy Theatre retains a vital place in the city's vibrant live entertainment scene. Built in 1928, the theatre is a blend of European flavours. The exterior is a replica of a Florentine palace and the interior shows a strong Spanish influence. The Comedy Theatre still maintains a lot of its original characteristics including balcony seating, a generous foyer and an elegant staircase.
Renowned as one of Melbourne's most spectacular and impressive event venues and situated in the heart of Collins Street at Melbourne's famous Regent Theatre, the prestigious Plaza Ballroom is a venue unmatched in history, elegance and grandeur. Your guests will marvel at the grand staircase entry, stunning architecture, the venue's high ceilings, bespoke light fittings and original chandeliers.
Safeguard provides a wide range of locksmithing products and services across all five theatres as well as ongoing maintenance arrangements including minor lock work, repairing or replacing locks & door hardware, designing and installing restricted master keyed cylinders.
PAST PROJECTS PORTFOLIO:
Safeguard's experience with major projects is impressive.
Some of our past projects include:
The Hive
Residential Apartment Development
Thornbury, 8 Levels, 70 Apartments
Holme
Residential Apartment Development
Collingwood, 17 Levels, 160 Apartments
Will & Co
Residential Apartment Development
South Yarra, 10 Levels,70 Apartments
The Village
Residential Apartment Development
Cheltenham, 8 Levels, 170 Apartments
Pace of Northcote
Residential Apartment Development
Northcote, 8 Levels, 120 Apartments
Archer
Residential Apartment Development
Menton, 10 Levels, 90 Apartments
Living Carlton
Residential Apartment / Housing Development
1050 Apartments, 180 Units
Tullamore
Residential Apartment Development
Doncaster, 10 Levels, 110 Apartments
Elland Ave
Residential Apartment Development
Box Hill, 10 Levels, 105 Apartments
Lakehouse
Residential Apartment Development
South Melbourne, 9 Levels, 80 Apartments
808 Sydney Road
Residential Apartments
Brunswick, 9 Levels, 95 Apartments