Our Reviews

Read Why Safeguard is one of Melbourne's most trusted Locksmiths.
We help thousands of satisfied customers every year.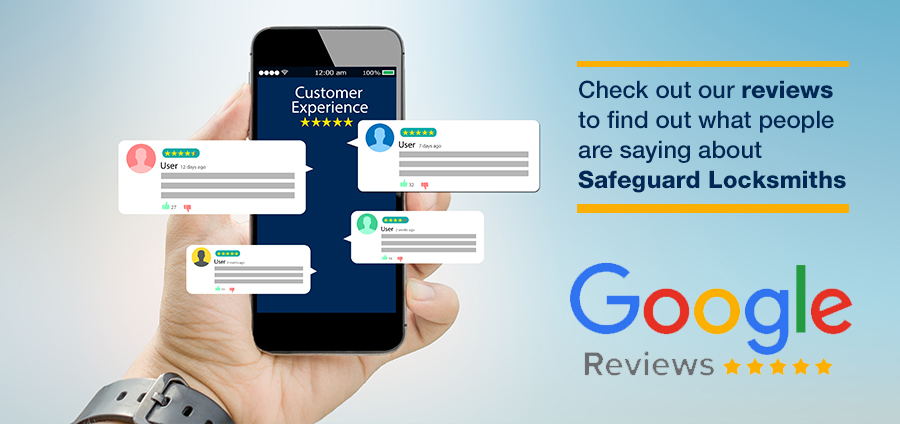 Foamex Group

A professional outfit with all the answers and a pleasure to deal with. Mark and his team were very competitively priced and continue to give great customer service as the needs of our business change over time. Rare qualities in business.
Samuel Saputra

Quick response & turn around time. Friendly and professional. Always easy to work with without much hassle. Would definitely recommend!
Andrew Thompson

Most polite and professional communication and service. We didn't end up needing them to attend because their experience and advice helped us solve the problem.
Rosemary Hinde

Great job and really fast. I would not hesitate to use this company again
Mardi Ettelson

Friendly and helpful company. Lovely woman on bookings, Nick the locksmith was great. Down to earth, friendly, knowledgeable, didn't feel he was trying to upsell anything, just what was needed and did a fantastic job. Cool guy. Really enjoyed, what was a bad reason for needing them (getting robbed), into as pleasant experience as it could be. Will use again. Definitely recommend!
Cher Sampson

Great staff! Spoke to a Ellen, highly knowledgeable, excellent service and Phil the Locksmith helped put me at ease with his laid back personality. Excellent experience, would definitely recommend to friends and family.
Tai Lee

Quick. No fuss. Thanks for saving me from further emotional turmoil.
Fiona Clark

Excellent service from first point of contact to the job completed.
Jennifer Craven

Phil is a lifesaver and such a nice guy to deal with! What could have been a very stressful situation on a Saturday night locked into my apartment, was much less so because of Phil. Lovely company, really fast response. Highly recommend !
Bryn Thomas

Excellent service from first phone call through to final solution. Thanks to the team for the speedy resolution to our problem.
Sophia Scuderi

We would just like to take the opportunity to say a big thank you and pass on our feedback on the positive experiences we have when liaising with Safeguard Locksmiths, particularly our dealings with Rhys Collier. He is always eager to assist with any queries, helpful and informative when communicating and has demonstrated incredible diligence when following up on orders. We just wanted to say a big thank you to Safeguard and Rhys for the reliability of the services and products provided as these efforts are appreciated and do not go unnoticed. #legend
Lily Hodgson

Rhys was prompt, friendly and sorted our door out in no time. Will definitely use again.
Super Jim Z

Phil went above & beyond. Absolutely epic service. It was a tough job and I can't recommend him enough.
Alessia Chilelli

Used safeguard for a vault door removal. One of the only companies that specialises in this. The safeguard team did this with ease and professionalism, great customer service
Emily Beall

Safeguard were very friendly and professional. Not only were they happy to assist instantly their price made our experience less stressful and over all great. They will definitely be our first choice for any issues going forward. Thank you!!!
Marvin D'Souza

Great quick service. They have everything. 🙂
freddi khoury

went to soo many places for a key cut for a old chubb safe before i found this joint, no one could help me.. cant remember the blokes name that helped me, but he looked like he enjoyed he's job and looked pretty happy.. he got the job done in a couple of days and charged me less than half of the initial quote.. from now on i wont waste my time going to other places.. come straight here.. cheers and merry christmas
Steph G

My partner and I were locked out, spoke to Reece and he arrived in under 20 minutes, it was amazing how quick he picked the lock! Hopefully we don't do it again but if we did or had to recommend anyone it would definitely be Reece/Safeguard.
Jack Wee

Rhys was careful yet amazingly quick and precise with our installation. He turned a complex problem into a straightforward and effective solution. Well organised, well planned and well executed. Would recommend Safeguard Locksmiths anytime!
Brandon Efthimiou

Great service. Professional, friendly, affordable and on time. Very happy with the service and would definitely go to again.
Daniel Collins

Thanks to Rhys and Shane for changing over my cylinders last Friday morning at such short notice even though they were closed. Much appreciated
John Docherty

The support & work was done at short notice, reliably on time, finished up & tidied up well, so great service – would use again
Brett Pringle

The locksmith did a great job, was really quick and extremely polite, would have no hesitation in recommending this service
Erwane de Swarte

I locked myself out of my apartment and rang through to Safeguard Locksmith. They sent out Phil to help out. Phil ran late on another job and gave me a call to let me know how far he was which was such a nice gesture when you're waiting. Phil was professional and efficient. Highly recommend using those guys.
Northland locksmiths

Safeguard Locksmiths are always professional, efficient and responsive.
kev

Great professional service. They go out of their way to help their customers.
Anne-Marie Carey

Had a great experience tonight with Phil the locksmith – provided fast, professional and on-time service for my out of hours call, plus Phil is a lovely guy and gave me bonus advice on safes while he worked. Could not have asked for more. These guys make stressful situations very pain free. Thanks Phil!
Kimberley Jane Wright

I got locked out of my house a couple weeks ago, and Phil came to the rescue super fast and was extremely professional and quick to get me back in! 10/10 reccomend 🙏
Robert Adler

Rhys, arrived very promptly and very efficiently gained access to our house, saving us from a cold night on the doorstep. On top of that he was pleasant and polite to boot. A real pleasure to deal with. Thanks Rhys.
K N

I would genuinely, highly recommend this place! Today, Reece helped me out with an old lock which was such a difficult job that a different company's call-out locksmith had previously said was 'impossible' yet still charged, but I went to Safeguard Locksmiths and Reece managed to do it! Such a lovely guy, absolute legend, saved me!! I would 100% definitely return and use Safeguard Locksmiths services again.
Andrew Scott

Very quick and professional. Will definitely use again.
John Dixon

Repaired my padlock at the counter in one minute no-charge. thank you
Jackson Quill

Arrived 5 minutes earlier, the man was friendly and professional and managed to get through two locks within 15 minutes (one being a deadlatch). I've never used a locksmith before but I felt the price was fair for an afterhours callout. I would recommend them. The man also had the most amazing beard, so bonus points.
E Demir

Great service, very prompt. Rhys is a legend. Highly recommended
Alan Harrosh

Mark and his team have looked after us on a number of occasions. Excellent advice backed up by speedy service. Hard to find these days. Highly recommend.
Val Ho

Had 4 locks changed after settlment of a property. Prompt reply, good communication and professional – no issues.
Alexandra D

Fantastic service from the team at Safeguard Locksmiths, very professional and friendly. Would highly recommend them.