Weather Proof Padlock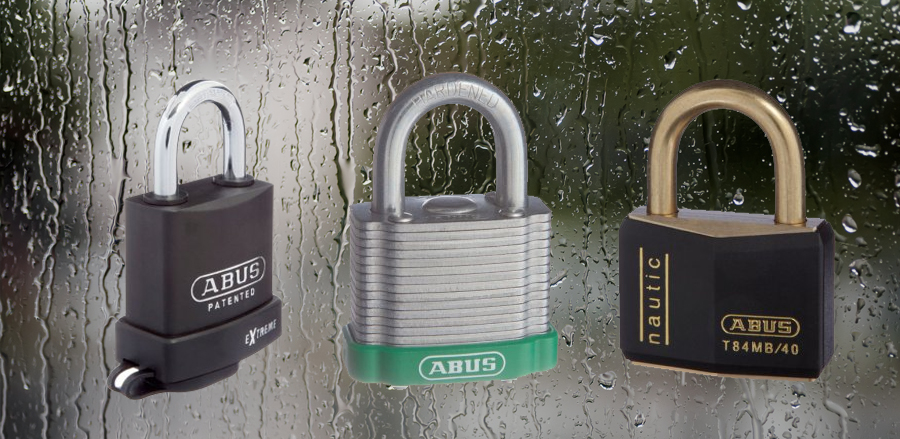 Here at Safeguard Locksmiths we have a vast range of weatherproof padlocks designed to be resistant to the harshest weather environments whilst also offering a secure weatherproof padlock to secure any application.
Make sure you pick the right outdoor padlock for your requirements. This is made easier as the majority of high quality weatherproof padlocks carry both a security rating and a corrosion resistance guide so the customer can choose the correct weather protected padlock suitable for your locking.
Our security experts would suggest when deciding on a good quality weatherproof padlock, you stick to trusted leading brand names such as the Abus weatherproof range including the Abus Submariner padlock, Abus outdoor range, Abus Mariner padlocks, Abus Expedition padlocks, Abus Extreme padlocks and the Abus Nautic Marine padlock.
Other outdoor padlock brands that are also trusted and highly recommended are the Lockwood weatherproof & corrosion resistance padlocks, the Carbine weatherproof padlocks, and the Master weather resistant padlocks. These are weather padlocks that provide protection in outdoor environments including marine environments, as they have been specifically manufactured for outdoor conditions with different versions and weather protection levels. For example, the Abus submariner padlock is suitable for extreme marine conditions as it offers exceptional resistance to saltwater corrosion; the Abus Mariner padlocks series was developed for general outdoor conditions and provides excellent resistance to most outdoor environments; for those who require a padlock for the harshest weather condition whilst also giving the ultimate in high security locking protection, look at the Abus Extreme padlocks.
All these padlocks are designed to be weather tough and provide a great weather resistance compared to the standard padlock. The majority of weatherproof padlocks on today's market usually can be keyed alike as well as coming with extended shackle lengths for selected models. Some outdoor padlocks also have combination padlock dialing when using a key is not practical as this adds extra protection against harsh weather conditions.
For the best advice on a weatherproof padlock no matter what you're locking up, be it a garden shed, garage, boat, motor bike or a letter box, speak to our professional licensed Locksmiths.

Our Most Popular Weather Proof Padlocks
This is only a small selection from our weather proof padlock range. For further assistance in finding the right weather proof padlocks for your application, speak to one of our friendly Security Experts.

TRUST ONLY A CERTIFIED LOCKSMITH