Lockwood MT5+ Restricted Key systems


The MT5+ locking system is a high security Master Key System designed to the highest standards to keep your premises secure for years to come.
Where the MT5+ Master Key System has the security edge on other restricted key systems is the MT5 & MT5+ provides the highest possible level of key protection against unauthorised key duplication. In addition every Lockwood MT5 & MT5+key will be covered by patent protection well into the future.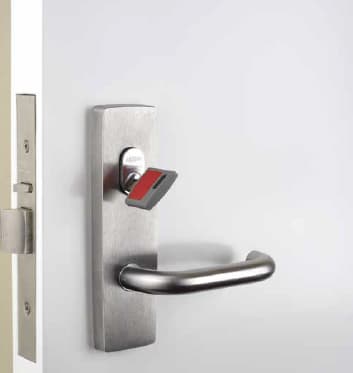 Lockwood MT5+ Originals are hard to copy
The MT5+ Key
All MT5+ products have a double sided unique MT5+ key. One set of cuts are for the Telescopic Pin mechanism and the other cut, the milled pattern, is for the Locking Bar in MT5+ products. The MT5+ combination provides enhanced key security and a higher manipulation resistance.
The MT5+ Cynlinder
MT5+ cylinders with reversible key function. The key always fits, regardless of which direction it enters into the cylinder.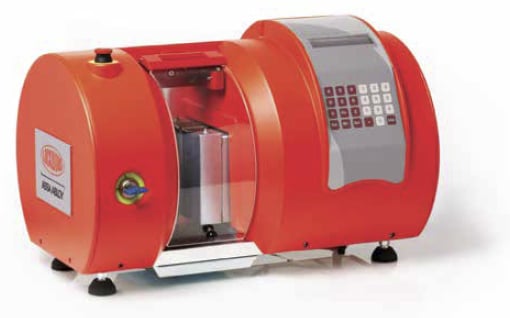 The KC5 Key Cutting Machine
Lockwood MT5+ keys can only be cut through an authorised Lockwood MT5+ agent on a dedicated Lockwood KC5
Key Cutting Machine. The super smart KC5 machine is electronically controlled and self calibrating meaning you get a perfect key every time!
The KC5 machine – for a perfect cut key every time!

Three Mechanisms for more security
The MT5+ locking system from Lockwood provides peace of mind!
To guarantee the technical key security of a mechanical locking system it is necessary to select a system that is protected by key patents and also offers a high technical key copy protection. The new MT5+ locking system from Lockwood will achieve both of these.
Lockwood MT5+ provides the highest possible level of protection against illegal key duplication via the revolutionary Alpha spring. In addition every Lockwood MT5+ key will be covered
by patent protection well into the future.
There are two levels of security, the base level is the MT5+ cylinder that uses a telescopic pin and alpha spring for restricted security. MT5+ builds on this by adding a locking bar for optimum security and high level master keying capabilities.

Alpha spring
At the tip of the key is a revolutionary mobile interacting spring – the alpha spring. The alpha spring engages a unique pin at the rear of the cylinder mechanism creating another shearline.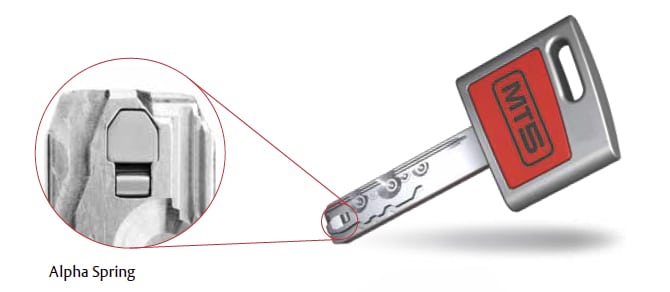 Telescopic pin
This new-generation product is also based on a new configuration telescopic pin technology.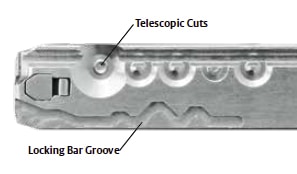 Locking bar
The locking bar mechanism is the third technology featured in the MT5+ cylinder. Correct alignment of the locking bar pins depends upon the correct combination key being inserted into the cylinder. The milled pattern which runs along the length of the key interacts with the top bar horizontal pins, creating the required shearline.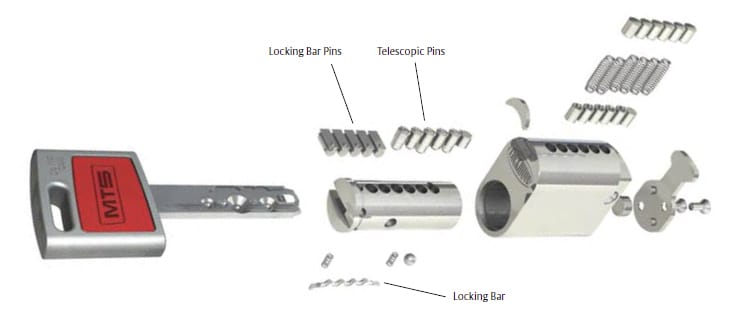 MT5+ Cylinders – for every application
Lockwood MT5+ cylinders are available for a wide variety of applications. Whatever your needs we will have a solution to suit.
The following is a small selection: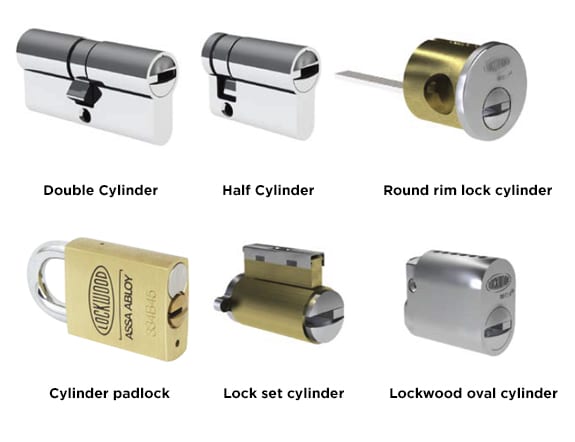 TRUST ONLY A CERTIFIED LOCKSMITH