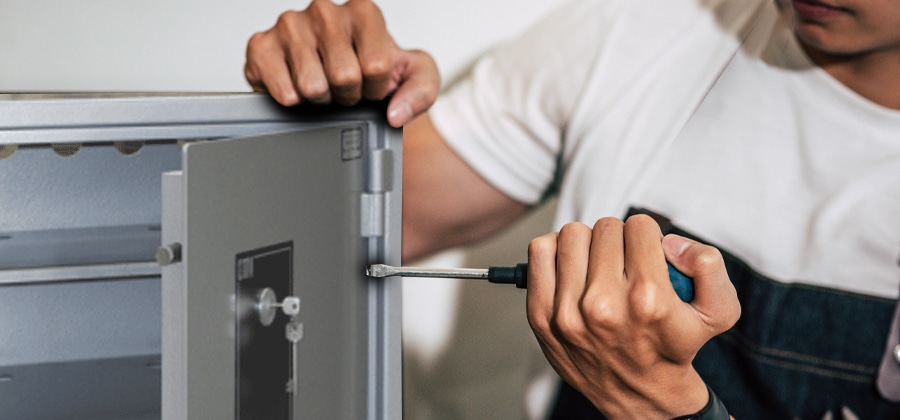 Safe Service & Maintenance

Did you know that most safe maintenance issues can be resolved within just 1 visit to save you time and money?
We keep some of our most important and valuable possessions in a safe, that's why it's critical to be able to feel confident that it will lock securely and open every time. So if you experience the slightest difficulty in the operation of your safe or are worried about any aspect of its operation, this is an indication a service is needed. Neglecting these indications will result in a safe lockout which is far more expensive than a safe maintenance service. The Security Specialists here at Safeguard Locksmiths can quickly assess and resolve the situation to get your safe working smoothly again.
WHY CHOOSE OUR SAFE MAINTENANCE SERVICE
We have been providing maintenance on all types and all brands of safes & vaults for over 35 years. Our highly skilled safe technicians have sound knowledge of the sophisticated locking mechanisms and security features of a safe or vault. So whether it's a high security cash safe or jewellery safe, our professional safe experts can install, repair, service or maintain your safe or vault.
NEED ASSISTANCE?
We can help you with:
Safe Opening (if you're locked out of your safe)
Upgrading your key lock or combination to an electronic digital keypad lock
Changing the dial combination code or electronic digital code
Check condition of all keys and cutting extra safe keys for your safe, or fitting a new safe key lock
Full service of locking system mechanism
Servicing of mechanical combination locks
Resetting combination lock code
Check operation of the Safe Door for alignment and adjustments to stop the safe door sticking and jambing
HOME AND BUSINESS SAFE MAINTENANCE SERVICE
Safes typically hold valuables and/or important and confidential documents to provide a secure and safe storage, keeping these away from the threat of fire or theft. It is crucial that you can gain access to these items whenever you need to, especially in a business environment. We know that it is essential to have access to your safe at all times and that's why we provide a 24/7 after hour emergency safe opening service. Our after hour safe locksmiths can cut keys on site and reprogram digital locks. They carry all types of safe repairs tools and a large range of safe replacement locks for most brands and types of safes.
We have a large base of commercial Clients with multiple locations within Australia and hence having their safes located at different geographical locations. We provide an annual maintenance programme as an added service to our commercial Clients. It is value for money as it ensures that any difficulties with their safes are identified and dealt with quickly before they become a major malfunction or a safe lock out situation which is both expensive and inconvenient. Annual safe maintenance will ensure maximum security of the safe at all times.
REMEMBER THE SLIGHTEST DIFFICULTIES IN A SAFES OPERATION ARE SIGNS THAT THE SAFE NEEDS SERVICING
The key for your safe is difficult to turn (may be a worn safe key or safe lock)
Your safe's digital lock is not opening (needs battery replacement or a possible electrical problem)
The safe door is difficult to open or close and the handle is hard to turn (door maybe out of alignment a has dropped and needs adjustment)
The combination lock on your safe won't open (sign or wear and numbers may move slightly out of calibration or lock needs servicing and cleaning).
★ALL WORK IS COVERED BY OUR 100% GUARANTEE★


TRUST ONLY A CERTIFIED LOCKSMITH