Indicator Bolts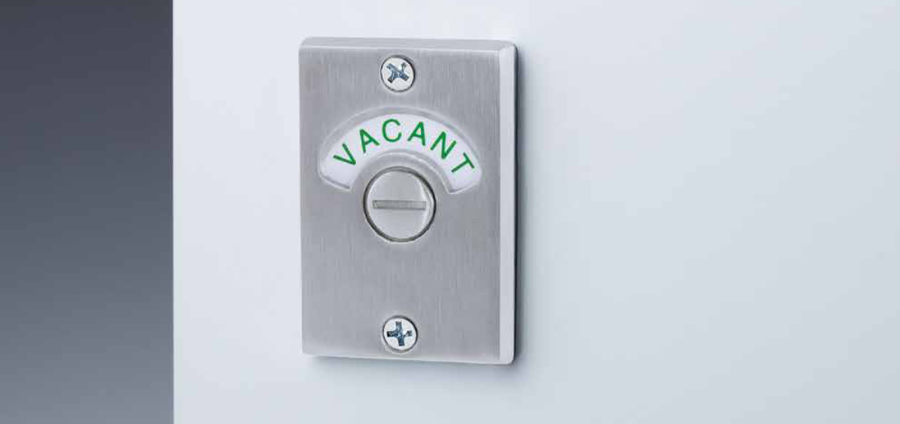 Here at Safeguard Locksmiths we stock a selection of indicator bolts to suit many different toilet door applications in a variety of partitions, sliding or hinged. Our range of indicator bolts include many top brand names, listed here are some popular choices we stock:
Astra morticed indicator bolts
It comes with emergency coin release as well as emergency coin release & disabled turnsnib.
Lockwood toilet indicator bolt series 550, 800, 810 & 811
For toilet partition fittings with indicators to denote whether a room is occupied or vacant.
Metlam indicator bolt 200A range
This is another widely used toilet indicator bolt, it is a traditional style indicator bolt that has the exterior slotted emergency release showing the vacant or engaged indicator sign.
Metlam Xcel slide lock and indicator 400A set
This is ideal for restricted hand mobility, limb loss and hygiene protection. It has an unique easy-glide slide lock as well as raised directional arrows for the vision impaired. It complies to satisfy disability standards AS 1428.1 for ambulant cubicles.
Legge 1461 indicator bolt
This is another well known brand to consider.
Rite Fit series of indicator bolts
These are great value for money toilet indicator bolts. They are available to be surface mounted or concealed mortise fitted, and have an emergency slot release with either turn knob or T style turn knob inside. Another option is an emergency turn button safety release handle from the outside rather than the usual slot release.
Our security consultants are Experts in toilet hardware so if you need professional advice for your next project to save time and money, call and speak to one of our friendly staff and get the right advice.

Our Most Popular Indicator Bolts
This is only a small selection from our indicator bolt range. For further assistance in finding the right indicator bolts for your application, speak to one of our friendly Security Experts.

TRUST ONLY A CERTIFIED LOCKSMITH