Digital Keyless Entry Locks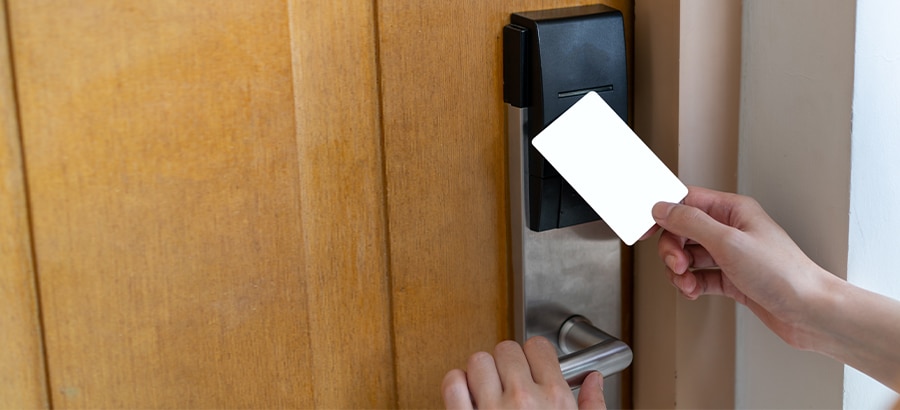 Keyless Entry Locks such as Digital Door Locks and Smart Locks have become a very popular approach by both Homeowners and Business owners to secure their premises. Digital door locks and keyless entry door locks are a convenient way to enter your property by simply using a pin code, this means you'll never have to carry keys again! Whilst eliminating this burden of having to carry keys, it also puts a stop to lost keys or even worse stolen keys, and not to mention putting an end to accidentally locking yourself out.
Mechanical Digital Locks or Electronic Keyless Entry Locksets will also add a higher level of security to your residential or commercial premises, in the fact because you have keyless entry, there are no chances of keys copied without your knowledge or no keys being stolen. Here at Safeguard Locksmiths we supply all types and all brands of keyless entry locks. Our highly skilled locksmith Technicians are experts in the installation and servicing of all models, and they have intimate knowledge on digital entrance sets based on their supply and installation of keyless deadlatch locks for hundreds of satisfied customers. Their in-depth and up-to-date industry knowledge also gives you the best possible advice that may be relevant to your home or business keyless digital door lock application. We will minimise costs when upgrading from a traditional mechanical lock to a keyless entry lock by using your existing door furniture where possible.
All Safeguard Locksmiths service work are covered by our Expert Service 100% Guarantee so don't put your security at risk by using an unqualified person to install any keyless wireless digital deadbolt. Get the best possible workmanship from our experienced locksmith installers.
Safeguard Locksmiths has no affiliation with any one supplier, so we only recommend and install what we consider to be best for your particular requirements. Along with this we use the leading brand names in high quality digital keyless entry locksets that manufactures and stand-by their products by providing exceptional warranties and support.
Here at Safeguard Locksmiths we keep abreast of the latest designs, technology and advances in Smart Lock Keyless entry door opening systems, so that our customers are always first with the best and latest keyless entry door technology.
TRUST ONLY A CERTIFIED LOCKSMITH