Galaxy Master Key systems


Galaxy… taking security key system to another level!
The Galaxy high security keying system provides one of the highest levels of key control that security locking systems offer. In fact the Galaxy keying system takes restricted master key systems to another level.
Galaxy restricted key systems can only be designed, built and controlled by an authorised Galaxy trained licensed agent. The integrity of the Master Key and Galaxy key of each locking system designed and installed is controlled and managed at all times via strictly controlled computer generated records and specialised Galaxy key cutting machines.
The uniqueness of the Galaxy key system revolves around the ability to change the combination of the lock quick and easy as the Galaxy cylinders do not require pinning and therefore offer a more consistency in the Galaxy Mater Key installations.
What is the Galaxy Master Key System
Galaxy is the most recent addition to the range of high security master key systems designed, manufactured & distributed by Australian Lock Company.
Using the very latest engineering & manufacturing techniques & using the highest quality materials, Galaxy provides a revolutionary approach to high security locking systems. With subtle technical improvements & considered design, Galaxy offers a host of previously unseen attributes to benefit the end-user & locksmith alike.
Galaxy is designed & built for convenience while maximising security & offering an enormous depth of possible lock combinations.
Its streamlined design eliminates the need for tumbler pins &/or coded discs to create permutations. Galaxy's custom designed & built Computerised Numerical Control (CNC) machine simultaneously cuts both the key & codebar which dramatically increases production efficiency.
Only authorised Galaxy licensees can design, build & maintain Galaxy restricted master key systems. The Galaxy CNC machine will only operate with the compatible software module authorised by Australian Lock Company. Details of all master key systems designed & built are purged form the CNC machine as soon as keys & codebars are cut. These system details are stored externally providing further security for all parties.
Galaxy's extensive product range makes retrofitting existing locks simple & recombinating quick & easy. Galaxy's stainless steel key comes with a lifetime guarantee against breakage & is available in 22 different key head colours. The key is also available in 3 different orientations making it virtually 3 locks in 1.
The durability of Galaxy is unquestioned with keys & cylinders having been tested to 1,000,000 cycles. Internal components use high quality metal injected moulded manufacturing techniques whilst sidebars & anti-drill components are made from high speed steel.
Galaxy also offers both the end-user & locksmith significant legal protection with Patents valid until 2024.
DOWNLOAD PDF FOR MORE INFORMATION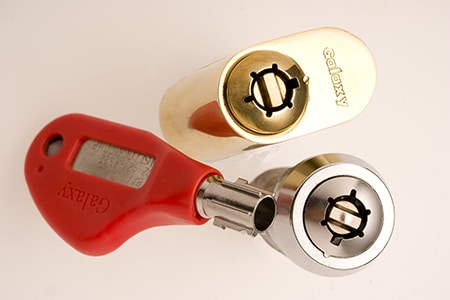 Key Color Range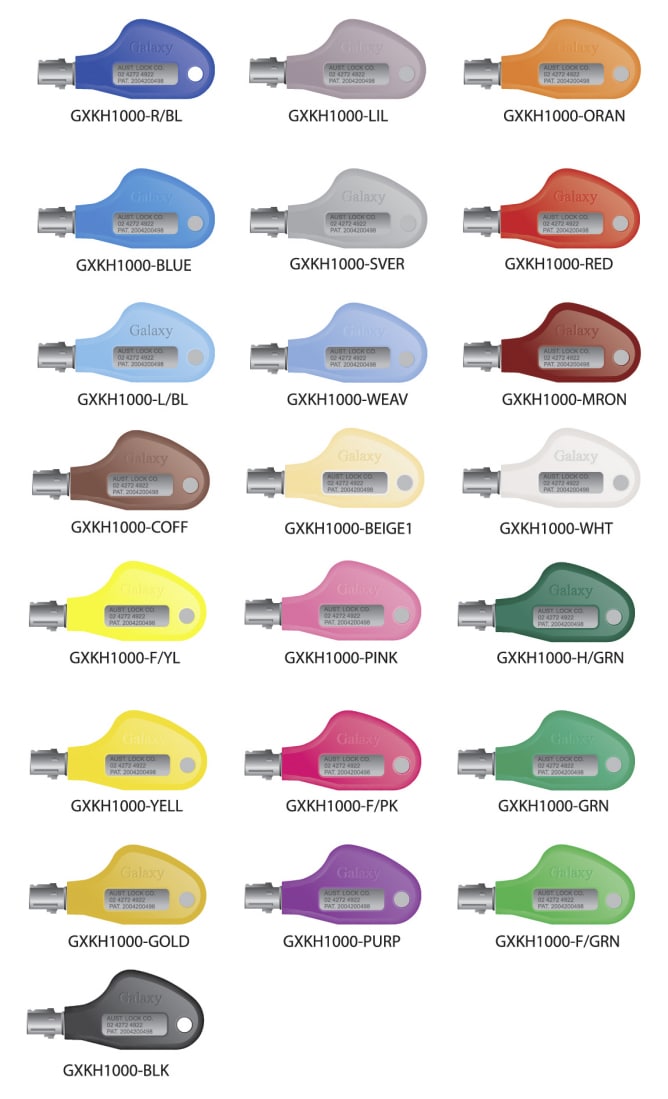 Sturdy Color-coded Impression-resistant Keys
Distinctively designed Galaxy operational keys are available in 21 colours
Keys carry authorised Galaxy Dealer details for easy reference and identification.
If a master key is lost only the master key and code bars need to be replaced, not the entire range of keys within the system.
Authorisation is required for additional keys. All keys are cut from code and not duplicated, and the key code is difficult to read from the key
Galaxy key strength exceeds Australian Standard. As they are made from stainless steel, keys offer increased wear resistance and the shorter design offers increased strength.
Cylinder and keys have been cycle tested to 700,000 cycles and with regular maintenance, in excess of 1,000,000.
Galaxy offers a life-time guarantee on keys.
Distinctive Design Features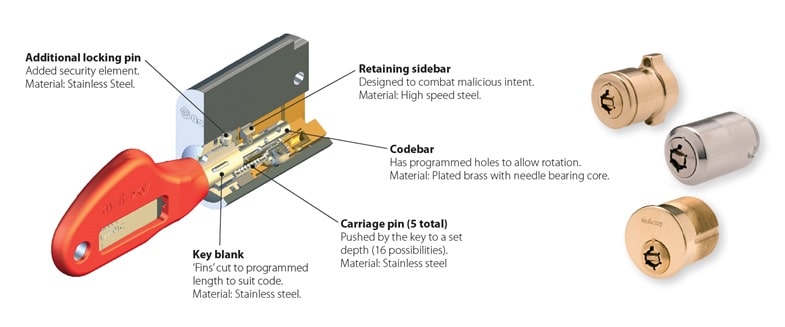 The new and innovative Galaxy is designed and built for convenience and efficiency while maximising security. Providing a greater depth of combinations than most other locks on the market, Galaxy's vast range of core options makes retrofitting existing locks simple and recombinating quick and easy.
Its streamlined design eliminates the need for tumbler pins and/or coded discs to create permutations. The unique simultaneous cutting of both key and codebar using a Computerised Numerical Control (CNC) machine increases production efficiency and reduces the likelihood of error and increases difficulty to duplicate.
Galaxy has incorporated a combination of 316 stainless steel and high speed steel to create a formidable lock. The versatile Galaxy key is super strong and offers wide-ranging colour options for quick and easy identification.
The patent life on the Galaxy extends to 2024. Australian Lock Company recognises the importance of patents to protect the client, agent and manufacturer from copying and therefore exposing the market to reduced security through inferior quality product. We are also protecting our Galaxy range with numerous Patent applications across the world.
Quick and easy to retrofit and recombinate
Galaxy boasts a myriad of advantages and benefits over other conventional locking devices on the market. Galaxy's uniqueness revolves around its ability to remove the centre core to change the programming of the lock, and that its factory built cylinders do not require pinning.
Galaxy cylinders retrofit most new and existing applications.
Galaxy cylinders use programmed holes on the codebar for coding.
Galaxy reduces the cost of replacing cylinders as only the codebar needs replacing and offers the following advantages: Reduced down time, Reduced labour time, Provides less opportunity for human error.
Super strong, not easily replicated and Patent protected

Inbuilt security features are designed for anti picking, anti bumping and to ensure extreme resistance to malicious attack.
Galaxy's additional locking pins and anti picking teeth on carriages prevent 'code hunting' while torque is applied.
Galaxy is designed to resist impressioning.
As Galaxy is only available through Authorised Dealers, the Galaxy key blank can only be reproduced by authorised Galaxy Dealers, offering additional security to the end-user.
Stringent quality control and authentication procedures by factory technicians ensure manufacturing consistency of cylinders and keys.
Cylinders and keys are Patent protected until February 2024.
Made from Super Strong Stainless Steel
Internal components are manufactured from Stainless and High Speed Steel.
Keys are made from 316 stainless steel and most components are high quality Metal Injection Moulded (MIM).
Side bars are anti drill and made from high speed steel.
Cylinders have stainless steel face plate/cap.
The uniqueness of Galaxy revolves around its ability to remove the centre core to change the programming of the lock. Factory built cylinders do not require pinning and therefore offers more confidence for product installation and consistency.
Secure and Simplified Master Keying
The Galaxy Grand Master Key system's wide-ranging combinations with tightly controlled security and colour differentiation offers the end user unprecedented protection.
Superseding the traditional and more vulnerable 1 barrel keying systems usually found in today's marketplace, Galaxy has the capacity to carry 3 locks in 1. Inbuilt hidden codes offer further protection by deftly camouflaging the Galaxy master key within the system.
System Coding Capabilities
Extremely complex and diverse Master Key systems to suit any requirement. Up to three separate security levels or locations can be secured using the same code and keys.
Expansion Potential
Galaxy's potential for expansion without having to change the existing system minimises further expense and disruption.
Australian designed, developed and manufactured
Galaxy has 3 key orientations available for placement of codes:

Left, Centre & Right
Key blanks twist the Codebar to the desired orientation.
Orientations are completely independent of each other.
3 dedicated key blanks.
All 3 orientations can be programmed on the one Codebar at the same time.
Flexibility
Retrofits most lock sets.
Extensive product range.
Simplicity
Quick replacement means time and cost savings for lost or stolen keys.
Easy to use.
Minimum maintenance.
Coloured key heads for easy identification.
Security
Restricted keying system by Authorised Galaxy Dealers only.
Durability

316 Stainless Steel key exceeds Australian Standards on key strength.
Tamper Resistance
Tamper proof design of cylinder & key assures resistance to bumping, picking and impressioning.
Quality Assured
Assembly of cylinders are 100% authenticated by factory technicians.
Legal Protection
Cylinder and Key designs are backed by Patents which are valid until February 2024.
TRUST ONLY A CERTIFIED LOCKSMITH