Key Cabinets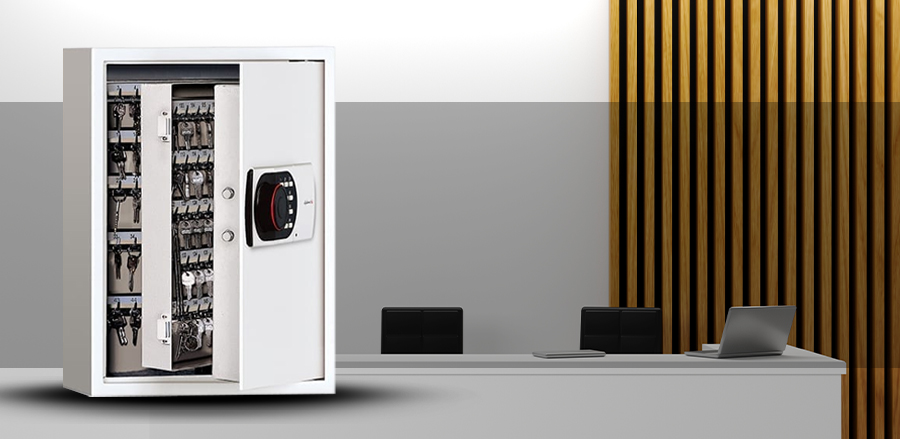 For security and safety, it is an OH&S Workplace responsibility to make sure important keys are locked away in a secure storage lockable key control cabinet. Such keys would include those that access areas that not all staff are allowed to enter, keys that give drivers or operators access to the dangerous equipment or machinery they use, and high security keys that should never be taken off-site by staff without authorisation.
No matter if your workplace is a industrial factory, an utilities company, an office suite, a hospital or community health care centre, a hotel or hospitality venue, or a serviced apartment rental, a gaming club or leisure centre, a School, college or university, a government office, department or research institute, It is crucial that keys are controlled, monitored and stored securely in an appropriate key cabinet to maintain security and safety.
A common option is to secure such keys in an on-site heavy duty key cabinet that has a solid and strong construction and provides both certified strength and has a quality locking system. Most high security key cabinets are provided with fixing holes in the back for secure mounting to a solid wall. Whilst this is excellent, you need to be conscious of your chosen location. It makes sense to install in an area of the premises that is restricted to trusted and authorised personnel only.
Some Popular types of businesses and organisations that often need to manage and store keys in lockable key cabinets include
Car rental companies
Car dealers
Property maintenance companies
Cleaning firms
Real estate agents
Fire departments
Security companies
Emergency services
Building maintenance companies
etc…
These particular industries often have large volumes of keys that are a vital necessity to control and be securely protected.
So if your organisation has senior personnel or cleaning staff and security staff that may need access to particular keys during working hours, and they need to return the keys to the key cabinets when they finish their duties or before they leave for the day, key cabinet would ensure that no keys are stolen, duplicated or lost, eliminating the security risk of your workplace being vulnerable to unauthorised access.
Safeguard has specialised in key storage cabinets for over 35 years and we have earned a reputation for supplying high quality key cabinets throughout Australia.
We stock a huge range and variety including:
WALL-FIXED KEY CABINETS

KEY BOXES


storing from 2 keys to 5000 key bunches. However you need to beware of keys varying in sizes, as secure key storage cabinets range in dimensions.
So make sure you choose a key cabinet to accommodate your key quantities, allowing for practical space requirements of a variety of keys and accessories such as fobs, access cards, car keys & car remotes. Otherwise it can be a problem to organise, resulting in bunches of keys being crammed into the key cabinet, squashed against each other, falling out when doors open, or adding to the risk of mixing keys up when they get in the wrong place in the cabinet.

MECHANICAL KEY CONTROL CABINETS


This gives access to authorised staff only, to retrieve their particular key by inserting their own unique Key pin code into the push button code pad to gain entry to the key cabinet. It is a simple but effective control system for those workplaces that require only low level security key control and places a honest trust system on staff to take their authorised key and return it after use.

EMERGENCY ACCESS KEY BOX WITH BREAK GLASS TO ACCESS


Key boxes for emergency access store an exit door key or similar in a secure box which has breakable plexiglass panel and an emergency integrated hammer to break the panel and access the key to be used at fire exits, near vital machinery and for emergency access to any secure area.

KEY SAFES & KEY BOXES


Don't get locked out – Invest in a Key Safe or key box to store your spare house keys in it. These can store keys safely and securely for home, holiday rental, offices, children, carers, nurses, utilities access or for emergency use. We only supply major brands of Key Safes & key cabinets such as Guardall, Diplomat, Kiddie, Abus, Creone, Burg Wachter, CMI, TATA, Kekab, Lockey Key Safes, Telkee, and Lock it systems.

OUTDOOR WEATHERPROOF KEY SAFES


These are ideal for storing a spare key for the use of tradesmen, gardeners, carers and nurses when visiting the elderly or disabled, for clients visiting holiday and rental accommodation, and for children to gain access to their homes. In fact, key safes are ideal for storing essential keys in for any security purpose.
We offer Key Cabinets with Slam shut doors that close automatically, cabinets with extra depth to store large bunches of keys, and have a wide range of locking options from key locking and digital locking, to auditable electronic locking options including key, padlock, mechanical digital and electronic digital versions.
TRUST ONLY A CERTIFIED LOCKSMITH