Professional Locksmithing Services That Augment Safety and Security
Safeguard Locksmiths is part of the Safeguard Group of Companies that has a proud history of more than 50 years standing as Melbourne's top service providers in the locksmithing and security industry.
Safeguard Locksmiths supplies, installs and maintains fully restricted Master key systems and supplies a diverse range of high quality security-related products that includes keys, locks and key management programmes. We provide a reliable and reputable service to both domestic and commercial clients Australia-wide.
Our longstanding reputation of providing an efficient and prompt service, in addition to reliable support at any time, is made possible by:
→ A state-of- the-art specially designed control facility in North Melbourne.
→ A fleet of more than 20 radio-controlled service units providing a 24/7 service.
→ An extensive support network, nurtured over a long period, of 200 Master Locksmith and professional maintenance contractors based in Australia, New Zealand and Singapore.



MISSION STATEMENT
Safeguard Locksmiths aims to provide the ultimate customer-centric service that offers the highest standards in quality service delivery. Our core business ethos incorporates values such as transparency, integrity and accountability.
VALUES
Our professional standards of efficiency and your safety and security is guaranteed by us ensuring that all of our staff members (permanently employed) have the required Police probity and clearance checks as well as the necessary licence and accreditation credentials in their specialist areas of expertise.
QUALITY
Safeguard Locksmiths is an accredited award-winning brand having been the recipient of the Australian security industry's internal protection award multiple times. A prestigious accolade that recognises the company's ongoing pursuit of superior service delivery in the locksmithing industry. At Safeguard Locksmiths we continue in our efforts to provide new and innovative locksmithing solutions to heighten the safety and security needs of all our clients and the quality of our service delivery.
LOYALTY
A key priority for Safeguard Locksmiths is to ensure a positive and productive working environment for all of our employees. We know that staff who are rewarded well for their efforts are better motivated and committed to offering our clients a superb service.
We make it a priority to always engage with our customers. By listening to their needs and concerns we are able to find effective solutions to their concerns and challenges. Information is key to us improving our core services and product offering and this allows us to remain at the top of our game.
A driving force behind the success of the Safeguard Group of Companies, including Safeguard Locksmiths, is our obsession of addressing customer needs. Safety and security continues to become a top priority with home and business owners in Australia. Our customers rely on us to provide them with the best and most cost effective solutions and the widest product range to protect their properties.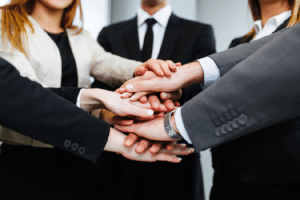 Safeguard Locksmiths believe the commitment-trust theory of relationship between our team and customers stems from two fundamental factors, trust and commitment. These must exist for a company to be successful, therefore Safeguard Locksmiths incorporates these important factors in every aspect of the company.