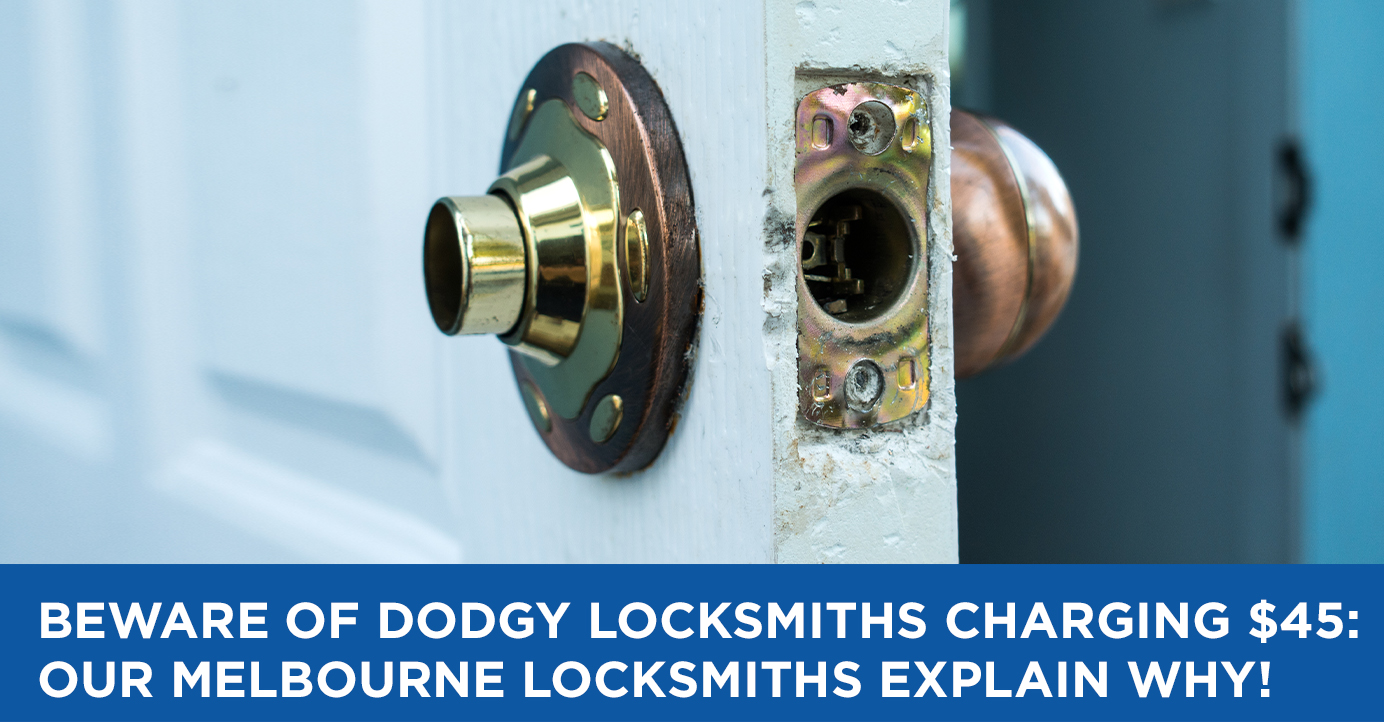 Whether you're locked out of your business or replacing deadbolts at home, don't put your security at risk by using an unqualified and unlicensed dodgy locksmith! Make sure you engage a Master Locksmith Association Member so you can be sure that you are dealing with a qualified and experienced industry security professional.
Be very cautious if a so-called locksmith is offering a professional locksmith service for only $45.00. Beware and trust your intuition, do your research on the locksmith before he does any work for you, not afterwards only to find out he operates a dodgy locksmith business. So it's better to talk to Safeguard Locksmiths now rather than later, because if a $45.00 locksmith service sounds too good to be true, That's because it is too good to be true! There's nothing more annoying than finding out after the fact that the locksmith you used was not exactly trustworthy and was unqualified and supplied inferior products.
Compare this, you wouldn't expect a professional plumber or a professional electrician to come to you in an emergency for $45.00. This price just does not exist unless there's something dodgy about it. Just like plumbers and electricians, locksmiths are qualified tradespersons. In order to get this qualification, a Locksmith must successfully complete a 4-year Apprenticeship that incorporates the appropriate training and education in order to work safely and competently in the locksmith trade. Further to this, in order to become Master Locksmith Association Members they also have to pass a stringent trade competency test, and are also required to comply with an established code of ethics and code of practice.
There are lots of so-called locksmith businesses advertising online, often on page 1 of Google, offering locksmithing services for only $45. But are they qualified, police checked and security licensed professional locksmiths you can trust? Do they operate legitimate and well established locksmith businesses that have the experience, skill and expertise to ensure your security and safety in their services and products? Are they accredited members of well respected security organisations such as the Master Locksmith Association of Australasia Limited (MLAA) or the Australian Security Industry Association Limited (ASIAL)? Do they carry Public Liability Insurances and Guarantees?
It is well known in the locksmith and security industries that many of these so-called locksmiths are scammers and don't hold the security clearances required to work as a professional locksmith. If you engage with this type of locksmith, it can become a real concern to your security.
Often dodgy locksmiths will also use dodgy products that will end up needing replacing in a short time with good quality products that should have been used in the first place.
Dodgy locksmith scammers with their cheap prices usually target those people looking for the cheapest prices and this often appeals to vulnerable people, such as the ederley and those with poor language skills. They often play on the victims emotions at the time especially if it's an emergency situation like a break-in or they have been locked out of the house or apartment. You can be certain that the cheap locksmith price advertised online is almost never the end price charged.
Remember to always do your homework before engaging with any of these fake locksmiths. In most cases, the locksmith scammers have had very little or no locksmithing skills, and in our experience have been found to be dodgy backpackers or even tourists on a holiday with absolutely no locksmith qualifications. They are simply on a visa looking for a quick dollar from unsuspecting victims. And more often than not, the customer is left with serious damage to their property as well as broken door locks, locks installed incorrectly, very low quality substitute locks fitted badly, broken windows and more. To the untrained eye, the consumer may be unaware of any of this until after the dodgy locksmith has been paid an overpriced charge. The consumer is often presented with a bill for as much as $800.00 to $1,000.00, which these locksmith scammers demand immediately by credit card when the job is often not worth $200.00, and then the inferior work and products will need to be redone by a professional licensed locksmith.
A good local locksmith will employ licensed locksmith trades people so make sure you are dealing with a professional locksmith and not a scammer. Here is what you should know.
The first red flag is to be aware of those locksmiths offering a $45.00 professional locksmith service to come to you anytime day or night. Ask them to guarantee you this will be the only charge before engaging their service.
As fees charged by licensed professional master locksmiths reflect their high degree of skill, the latest standard industry equipment they use, along with up-to-date industry knowledge. Their fees also incorporate the travel time, as well as the time of the day the job needs to be assisted with. For example standard general regular hour locksmith service or after hours emergency locksmith service are charged differently. Professional locksmiths can provide a quote in advance for most work, usually over the phone. But in some cases an onsite security survey may need to be conducted to advise if your security needs upgrading.
How to spot a scammer and how to avoid being scammed?
Remember no matter why you need a locksmith, whether it's being locked out of your house or your keys have been stolen, there are a few basic rules you should check before calling the services of a locksmith you have found online:
When looking for a locksmith to let you back in to your premises, or to rekey your locks, cylinders or doors, it's essential that you choose a company that's a Member of the Master Locksmith Association of Australia, so you can be assured you get a professional locksmith that is appropriately trained and knows exactly what they're doing to fix your locksmith problem.
Do your research on the locksmith business to confirm they are a legitimate locksmith, being a registered company with an ABN (Australia) or NZBN (New Zealand), usually havea.com.au or .co.nz ending domain name. Scammers don't have ABNs or NZBNs, so they tend to use .com and info@. If you're not sure, ring the Master Locksmiths Association on 03 9338 8822 to confirm the legitimacy of the locksmith.
If you found the locksmith business on Google ad, again do your homework before engaging their service as scammers tend to buy ads and pay for their Google ranking. Not all Google ads promote scammers but just be cautious of businesses that just run ads.
Does the locksmith business you intend to use have an actual location address? Many scammers use the address of a shopping centre or an office complex to make it appear that they are locally based, but when you dig deeper this is just a scam to make out they are local locksmiths.
Is the locksmith business security licenced as well as being a Member of the Master Locksmith Association of Australia? By law in most States & Territories in Australia, as well as in New Zealand, legitimate locksmithing businesses are required to be security licenced, and the allocated licence number of the locksmith is required be displayed on their website. This is another way to confirm dodgy locksmiths as scammers are not licenced.
Is there another locksmith business that has the same, or a very similar name? Scammers often try to pass off as another well established locksmith in an attempt to trade off the good name of a reputable locksmith business. While it can be difficult to determine who is legitimate and who is a scammer, it is vital to check both websites and verifying their phone numbers and credentials.
Is the business a member of a peak body association such as the MLAA or ASIAL? Most legitimate members of recognised trade and industry associations display their membership logo's details and affiliation on their website, and these accreditations can be confirmed by ringing the associations directly .
Locksmith Scammers tend to be very vague about what job will cost and how long it will take and try to baffle you with words and get you off the phone quickly with a booked job. A professional locksmith knows exactly what needs to be done, they have the skill and knowledge to give particular advice based on years of experience and can provide a quote on how much it will cost, and how long the job will take.
Professional locksmiths typically drive commercial onsite service vehicles, usually signwritten displaying and advertising their company details they work for. They often wear a company uniform that also identifies the business. They may also carry their licence or some other sort of credentials to indicate that they are a professional locksmith or alternatively the company they work for can be contacted to verify their legitimacy. Scammers tend to drive any type of unmarked passenger vehicles; they very rarely carry any form of identification. If they do, you must check it carefully and if in doubt keep them out. Scammers also tend to dress in casual clothes.
Scammers like to get in and out quickly and pay immediately by credit card or cash. This is because the so-called locksmith doing the job is generally doing it on behalf of a bigger scam operation. The scammers will give you a dodgy receipt if you request one, otherwise they will tell you it will be posted or emailed. Insist on an official tax invoice and make sure it is a professional document, not a handwritten off the shelf receipt book. Also pay attention at all times as often the transaction is by card, it is processed in overseas currency, and sometimes extra charges get added after the job has been completed. A professional locksmith will always issue you with an official tax invoice.
If you think you are being scammed, what do you do?
If the so-called locksmith attending your home or business property does not appear to be legitimate, or even if your intuition just gives you a bad feeling about the person, cancel the job immediately whilst you have the chance, otherwise the end result will be a dodgy job at an exorbitant cost, and you will have also put your security at risk so ask them to leave. If they threaten you, call the police immediately.