Bilock QCC Construction & Building Site Security
Planning security on your construction site is essential to implement preventive security measures against theft and reducing costs.
Safeguard Locksmiths has listed below some basic practical advice on things to incorporate as part of your site security plans as they have proven to be effective ways to significantly help reduce your construction site from being targeted by thieves.
Temporary construction keying – Why is this necessary
Construction keying during the building stage typically means the locks on site are temporary keyed for builders/contractors to gain entry whilst the building is under construction but once completed the construction keying is removed easily, quickly and without cost and the locks now are off construction keyed mode and the builders and contractors cannot gain entry to the site any longer. Safeguard Locksmiths have worked with hundreds of builders on major projects where construction keying is an essential part of the works.
BiLock QCC Construction keying is a popular and preferred construction keyed system used by many large and small building companies.
Safeguard Locksmith has has professionally provide construction keying options to the building industry sector as a added security feature on their sites to for over 20 years as a cost effective way to reduce theft and maintain security from beginning of the initial lock up stage to handover.
Other basic security tips to incorporate into your construction sites security plan
Install high fences to prevent potential thieves from observing the site and obstructing their view as well as it will be a good barricade.
Fit good quality heavy duty locks throughout the construction site to prevent a break-in make sure you include site offices also.
Lock away all tools and equipment and make sure you have an inventory of tools & equipment for insurance purposes.
When it comes to materials don't over order this will reduce supplies left on site.
Good lighting & Alarm systems are a must on construction sites as thieves hate well lit up areas and we also recommend that all site lighting be connected to motion sensors,CCTV's and alarm devices as this will expose and deter any criminal activity on site.
Security Guards are an essential part of construction security they attend to emergency alarm activations as well as providing regular patrols and place security signage around the site to put off would be thieves.
All these common sense precautions will add another layer of protection to your construction site if you take the necessary steps now rather 5thasn later.
Security During Construction
How often do you hear of security breaches or careless damage during the often lengthy construction phases that have cost the project both time and money?
The Australian Lock Company has offered the building sector BiLock high security locking systems for two decades now. In 1997, we introduced an added feature known as 'construction keying'. This added characteristic was launched in parallel with the patented Quick Change Core (QCC) onto the Australian market!
This facility is available via any one of our accredited agents throughout Australia and selected international markets, and has afforded end users a significantly enhanced ability to maintain a system's security.
Something as simple as colour coding to differentiate the level of access during the construction phase offers the developer or builder a genuine, added dimension when using QCC in security during construction.
Where to Start at the Construction Site
The door hardware is fitted with the appropriate BiLock Quick Change Core (QCC) cylinder and installed to suit the door/building schedule.
The raw construction cores (or plugs, as they are often called) are either keyed alike or keyed to differ in accordance with the builder's requirements.
These 'construction' cores are either purchased or rented by the builder to better control security during construction and keep keying costs within budget; no need to install and remove complete hardware or even cylinders with BiLock's colour coded construction keying system.
Construction Keying Keeps Rekeying Costs Down!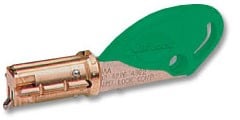 The Construction cores are fully keyed to 12 pins and your nearest BiLock agent will explain how the system can be designed to suit your specific requirements during construction. The cores are supplied by the agent with keys as required by project management. A QCC control key is supplied to management to facilitate the change of access levels.
FPL2201CQ – First Generation Quick Change Core – 12 pin
* Coloured inserts POA (Delrin Plastic inserts in red, blue or green).


3 Tier, Then Handover
It is simply a three tiered system of access using blue, green and red inserts in ALCO's brass construction plug
PHASE 1: THE 'BLUE' LEVEL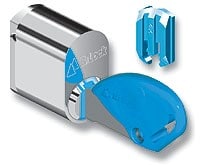 The blue coloured insert is used during the initial general construction stage of the project through to completion of the shell. For instance, access may be limited to say, plumbers!
PHASE 2: THE 'GREEN' LEVEL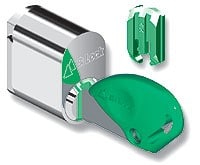 By simply removing the core and replacing it with a new core containing the green insert, the developer/builder will then be covered through to lock-up stage and/or finishing trades. For instance, access may be limited to say, electricians and plasterers!


PHASE 3: THE 'RED' LEVEL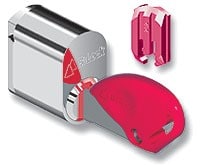 Again, by simply removing the "green" core and replacing with a new core containing the red insert, these locks take the developer/builder through to completion of finished trades and/or through the defects period and on to actual handover to the tenant/owner/s. For instance, access may be limited to say, painters and decorators!


PHASE 4: OCCUPANT TAKES OWNERSHIP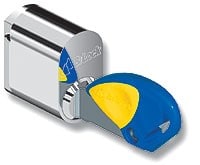 Again, by simply removing the core [or plug] containing the red insert and replacing it with a keyed-up plug [in Chrome Plate, Satin Chrome, Polished Brass or other finish offered by Australian Lock Company].
TRUST ONLY A CERTIFIED LOCKSMITH