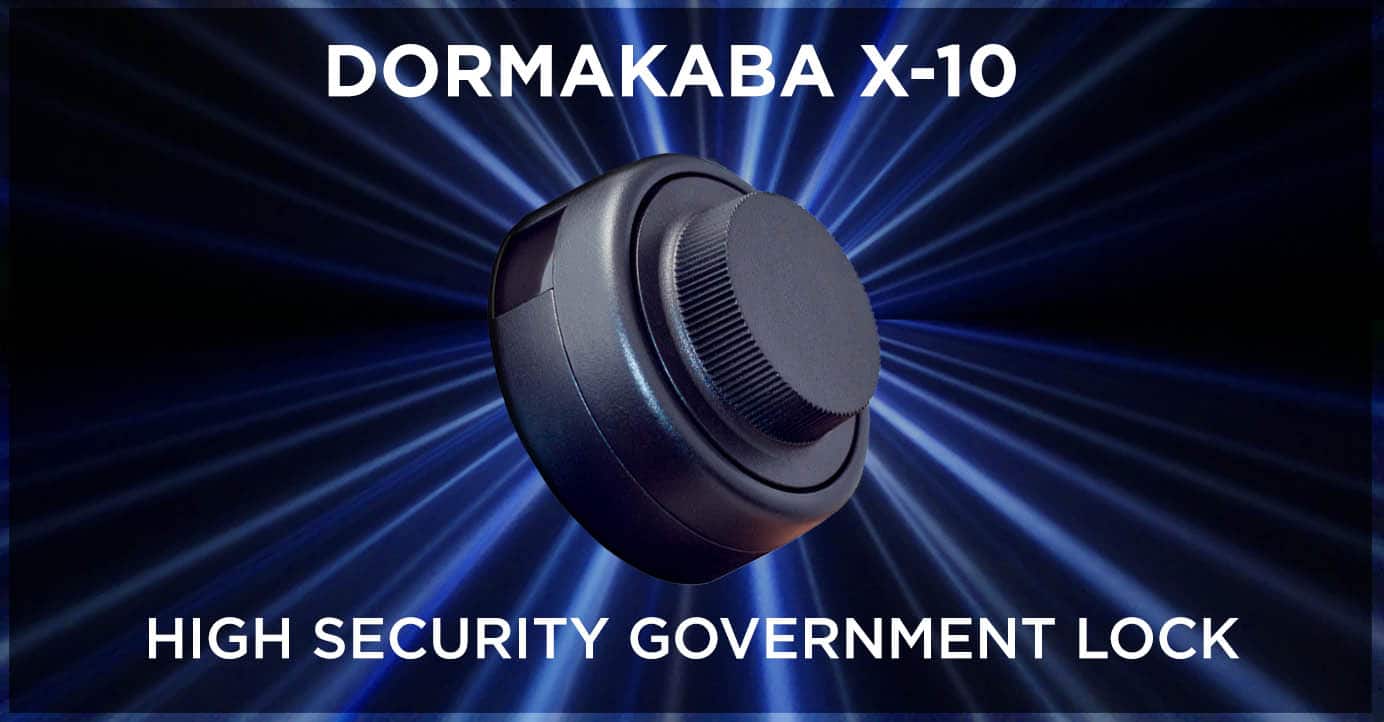 Dormakaba X-10 High Security Government Lock is the highest security, combination container lock that is SCEC endorsed and approved to be installed on Governments containers and cabinets when the highest level of protection is essential.
The Kaba max X-10 is a trusted and reliable Government lock, and is the first choice for securing Australian and New Zealand most sensitive and classified materials.
The X-10 is the only SCEC cleared self powered digital lock that features audit trial and a intuitive back-lit display. This provides the highest level in security user experiences and efficiency. This high security Government lock has full audit features. It records all successful openings and the record is not re-settable records.
The X-10 also notifies the user of unsuccessful attempts after 3 failed attempts. This feature allows the custodian to identify if there has been an attempted breach of combination on container.
The X-10 is quick and easy to use with simple combination changes. A X-10 lock has visual control on the digital to minimise the risk of scrambled combinations that are generally associated with analogue type dials. The Dormakaba X-10 High security Government lock provides precise and stress free combination changes by guiding the user through the procedure whilst securely providing the user with a visual confirmation of their newly set combination during the code changing instruction. Because the X-10 lock is battery free and maintenance free as it uses "green" self powered technology, so its as simple as rotating the dial to power up the lock. This "power station" technology eliminates the possibility of a battery malfunction and eliminates any battery service requirements. With the X-10 locks self powered technology this means you will never have to replace a battery again.
The unique security features plus the 2 year factory warranty makes the Dormakaba X-10 digital lock the first choice by Government and Defense Departments.
The security features on the X-10 lock include:
*SCEC approved to SL4 for use on A, B, B+ Class containers and cabinets
*High security combination lock
*Self powered, battery free
*Back-lit LCD display
*Highest level protection
*Proven effective performance and reliability
*2 years factory warranty
The X-10 was developed as a direct result of the latest invention to Federal Government specification. It is approved by the GSA for use on approved Class 5 and Class 6 filing cabinets and Class 5 security vault doors.
These locks require a professional certified SCEC approved installer to fit them. Our SCEC endorsed installers are accredited licensed Safe technicians highly trained in the security and installation of Dorma Kaba X-10 Government locks.
Contact us at Safeguard Locksmith today, by calling us on 1300 723 796, or send us an email on sales@safeguardlocksmiths.com.au.