Education Security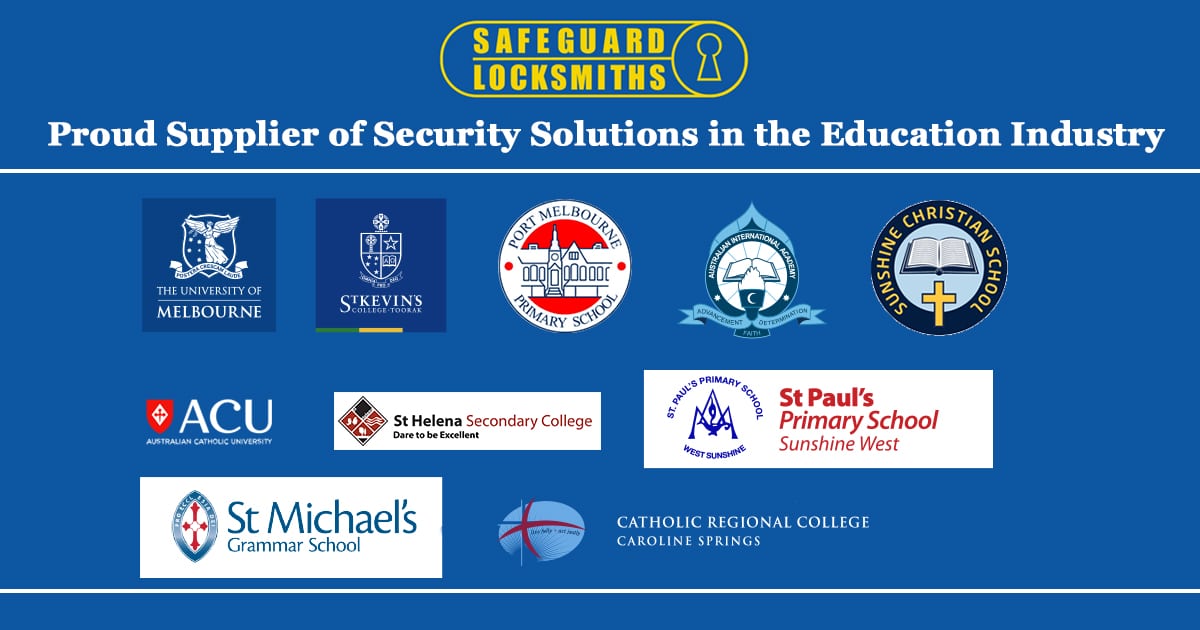 Safeguard Locksmiths education sector has depended on security keying and quality entryway equipment to face the rigors of regular utilize and manhandle. Up to this point, expert key frameworks had been ordinary at all training offices and with keys every now and again lost or stolen, re-keying expenses and detriment have dependably been close nearby. With the presentation and keen incorporation of Salto access control, Bilock expert keying, and CCTV school security cameras, Safeguard Locksmiths has possessed the capacity to reform the instructive segment.
Safeguard Locksmiths can now execute a really incorporated electronic and mechanical school security framework which will free you of the consistent weight of attempting to issue and control access by means of keys alone. We can demonstrate to you how you can swipe a physical key at an entrance control entryway. We can likewise dispense with the requirement for re-keying your office which are ordinary and can signify countless dollars every time. Best of whatever, you can successfully take control of your security and deal with the entrance of all educators, temporary workers and nightfall open clients by issuing one qualification as it were! Furthermore, this is all done by the snap of a catch in your administration programming.
EXISTING CLIENTS
Click on their links to learn more about Safeguard Locksmiths education security solutions we proudly implemented into their sites
FIRE RESISTANT FILING CABINETS
Safeguard Locksmiths offers fire resistant storage solutions that can meet your storage requirements. A common concern when it comes to storing data is having a storage option that allows for both paper documentation as well as data storage devices to be protected.
This option is a cost and space effective method of storage, as it prevents you having to purchase two separate safes – one for your paper data and one for your electronic data. It also allows you to control access to all your sensitive information without having to remember multiple codes and keys.
Fire resisting cabinets are perfect for use in corporate businesses where sensitive information needs to be kept secure but also readily available. This includes legal, insurance, accounting and mortgage broker companies.
Take a look at our home safe range by clicking on this link –
www.safeguardsafes.com.au
SCHOOL LOCKER LOCKS
Safeguard Locksmiths institutional ocker locks are planned particularly for office oversaw lock-locker frameworks in schools, worker locker rooms, wellbeing clubs and different establishments. Accessible in a scope of convenient and inherent styles, these locks offer the elements and backing required by offices to oversee their framework, including:
Combination control charts
Supervisory key override feature on most models
Custom dial hues or markings — business name, school logos
Recognizable serial number proof
Safeguard Locksmiths end user registration for enhanced framework security and respectability. On the off chance that you have to supply your own particular blend lock at school, work or wellbeing club, Master Lock offers numerous styles and outlines of individual use mix bolts and are accessible from Safeguard Locksmiths call
1300 723 769
for a markdown cost or visit our main warehouse in North Melbourne.