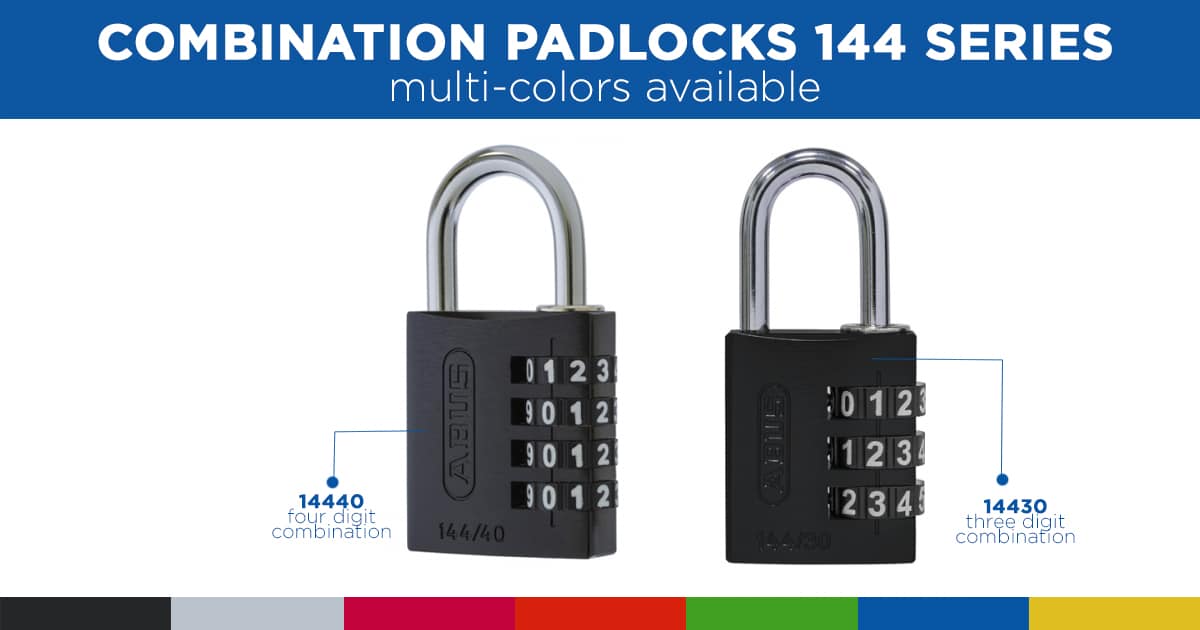 Safeguard Locksmiths stocks the full range of 144 Series combination padlock in multi colors.
This padlock is designed with easy to read extra-large number dials. The white numbers on black wheel makes them easy to read and use, which makes it great for the elderly, people with glasses, or to be used in a low light environment.
THE 144 SERIES COMES WITH TWO TYPES OF COMBINATION LOCKS
14430: 3 digit resettable combination lock



14440: 4 digit resettable combination lock


Both designs come with steel shackle, aluminum body, and abrasion-proof plastic number dials for long-lasting readability.
 
Multi-colors are available for your selection, including blue, yellow, green, orange, red, black and silver. This gives you the ultimate freedom to choose your favorite color, or to match where you wish to use the lock on, weather it's used on your lockers, luggage, cash boxes or cupboards.
Check out the different color designs available below for 14430 and 14440 range.


To reset the code on the 144 series combination lock, you first need to know the existing code (factory set at 0-0-0-0). Then you could follow the steps below to complete the set up process for your new code:
1. Use the existing code, unlock the padlock
2. Rotate the unlocked shackle 180 degrees and then press it down
3. While the unlocked shackle is depressed manipulate the code wheels to the desired code
4. Release the shackle and rotate back 180 degrees
5. Your new code is ready to use!
Wanting to select one of these easy to use combination locks today for your home or office to enjoy the key-less freedom with the same secured feeling? Contact us on 1300 723 796 to speak with one of our friendly certified Locksmiths.