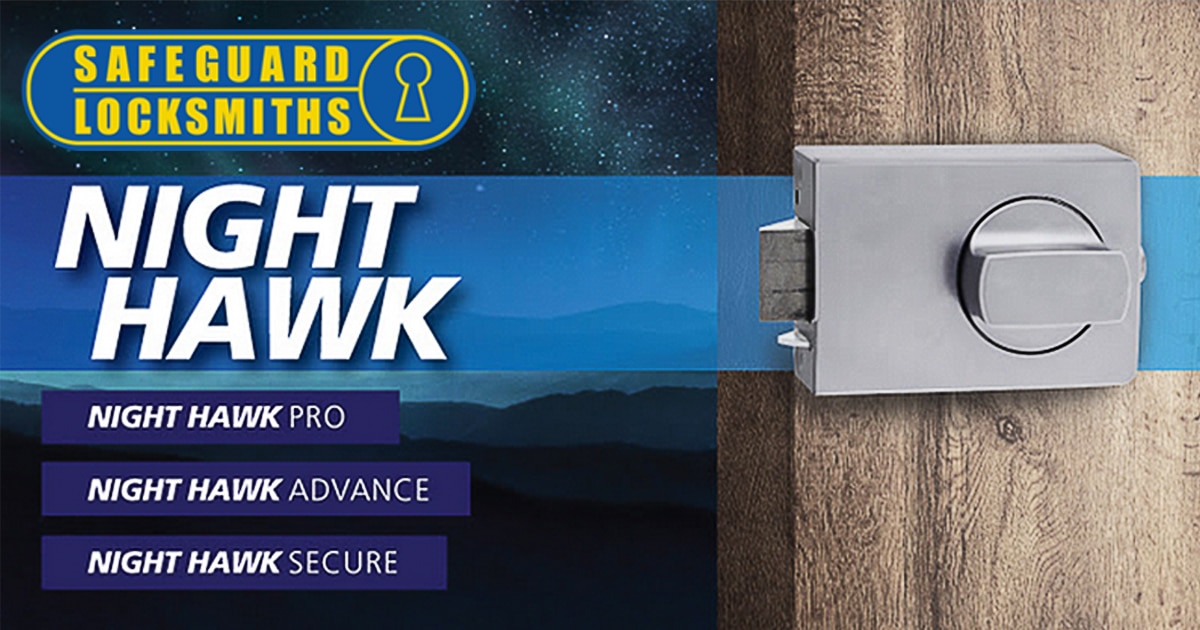 Check out the new lock range available at Safeguard Locksmiths!
The Carbine Night Hawk range is the next generation of rim lock night latches that are up to 5 times stronger than your standard night latch.
The Designer and Engineering team has worked together, and put together the next generation rim lock night latches that is perfect for residential and small to medium businesses. The new design has added strength, improved security and amazing new features to allow a smooth user experience.
The Night Hawk range has been tested to various strength and manipulations tests, such as jemmying attacks, impact force on the door, and resistance of the tongue and bolt to static force. The result guarantees the new Night Hawk range is 500% stronger than any of your standard night latches.
There are currently three products under the Night Hawk range. The Night Hawk Pro, Night Hawk Advanced, and Night Hawk Secure.

Night Hawk Pro is designed with a satin chrome finish that fits nicely onto your door. The hold back functionality for quick entry and exit provides a simplified user experience.
Night Hawk Advanced is a more durable product with modern design, it comes in a black powder coat finish, or a silver powder coat. It takes a standard 201/CRC rim cylinder that could be rekeyed, and integrated with existing master key system.
Night Hawk Secure is the choice with additional security, it is an ideal upgrade for commercial and residential security. Extra mounting holes and reinforced inward opening timber strike with extra-long screws adds additional mounting strength and security.
Interested in improving your night security with an extra peace of mind? Contact us today on 1300 723796 to speak with one of our Security Specialists to get expert advise on getting the Night Hawk supplied and installed at your home or office.
Check out our website for more information on security products and services.