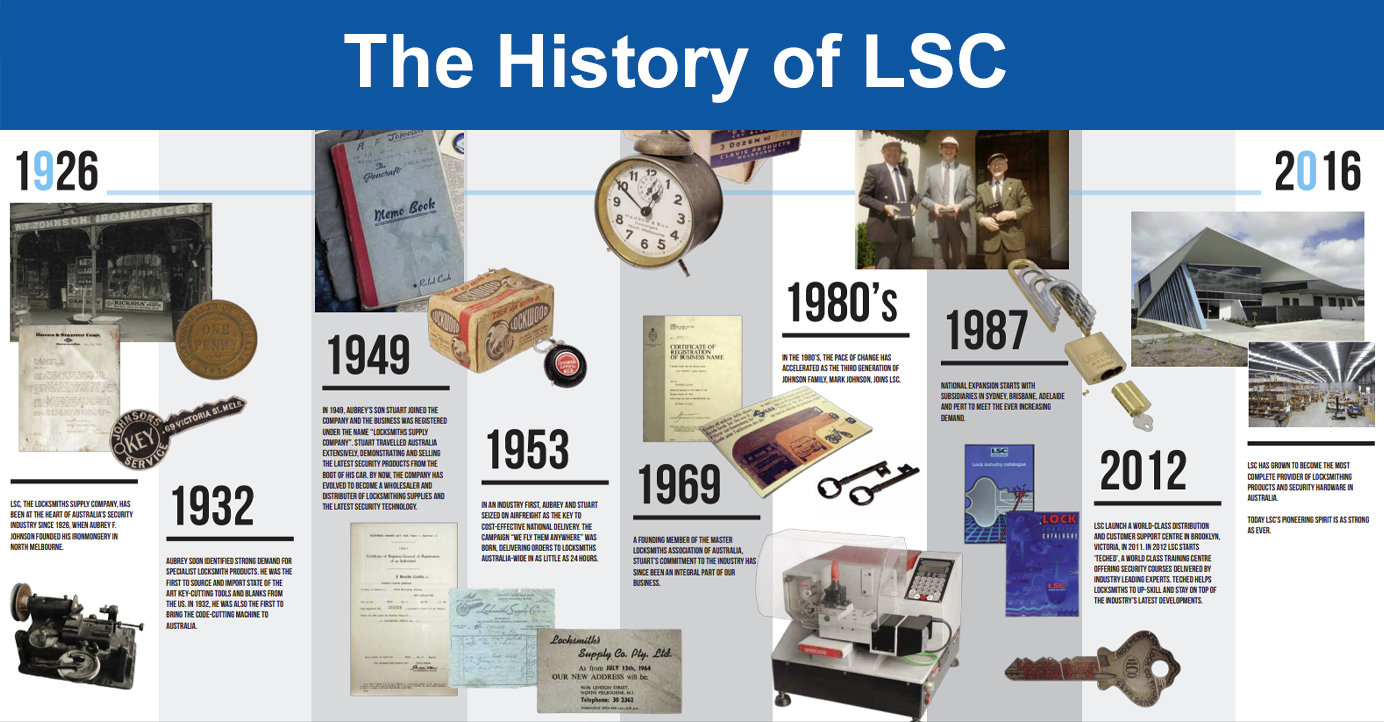 LSC was established in 1926 by Aubrey Johnson, it was originally known as A.F. Johnson & Co. After Aubrey returned from the World War with some unusual and colorful experiences, he worked for his uncle in an ironmongery in Richmond, Melbourne. Aubrey put in a lot of hard work and eventually bought his own ironmongery business in Victoria Street, North Melbourne.
Aubrey is a pioneer of the industry. He continued to research the world absorbing everything he could about the locksmithing industry, with a goal in mind to bring the latest advancements to Australia. This included the first code cutting machine for cylinder keys in Australia.
In the 1930's, Aubrey began importing specialist locksmith products, however the Second World War slowed the shipping from Europe and the US. by the late 1940's, Aubrey's son, Stuart Johnson joined the company and became the force that drove the company in the direction of pure distribution specialising in locking and security products. Stuart travelled throughout Australia and New Zealand, dedicating a lot of his time to demonstrate and sell the products his Father imported from overseas. The business performed particularly well, and by the 1950's it was doing even better than ever, thanks to the passion and commitment Stuard had for the locksmithing industry.
Indeed, Stuart was an integral part in the development and professionalisation of this young Locksmithing industry. He was a founding member of the Master Locksmiths Association, and even taught locksmithing at the original Tech School during the evenings.
Aubrey and Stuart built the foundation of LSC. They have always worked hard, going the extra mile for customers, shown honesty and respect. This is still LSC's philosophy today. In this fast paced digital age, personal long term relationship is something LSC values dearly.
The pioneer spirit is still the core of the business today with Mark Johnson's entrepreneurial drive. Mark encourages and empowers his staff to innovate and work towards the best. Always underpinning LSC is their unbroken commitment to supporting and reinvesting in the future of security and lock industries.