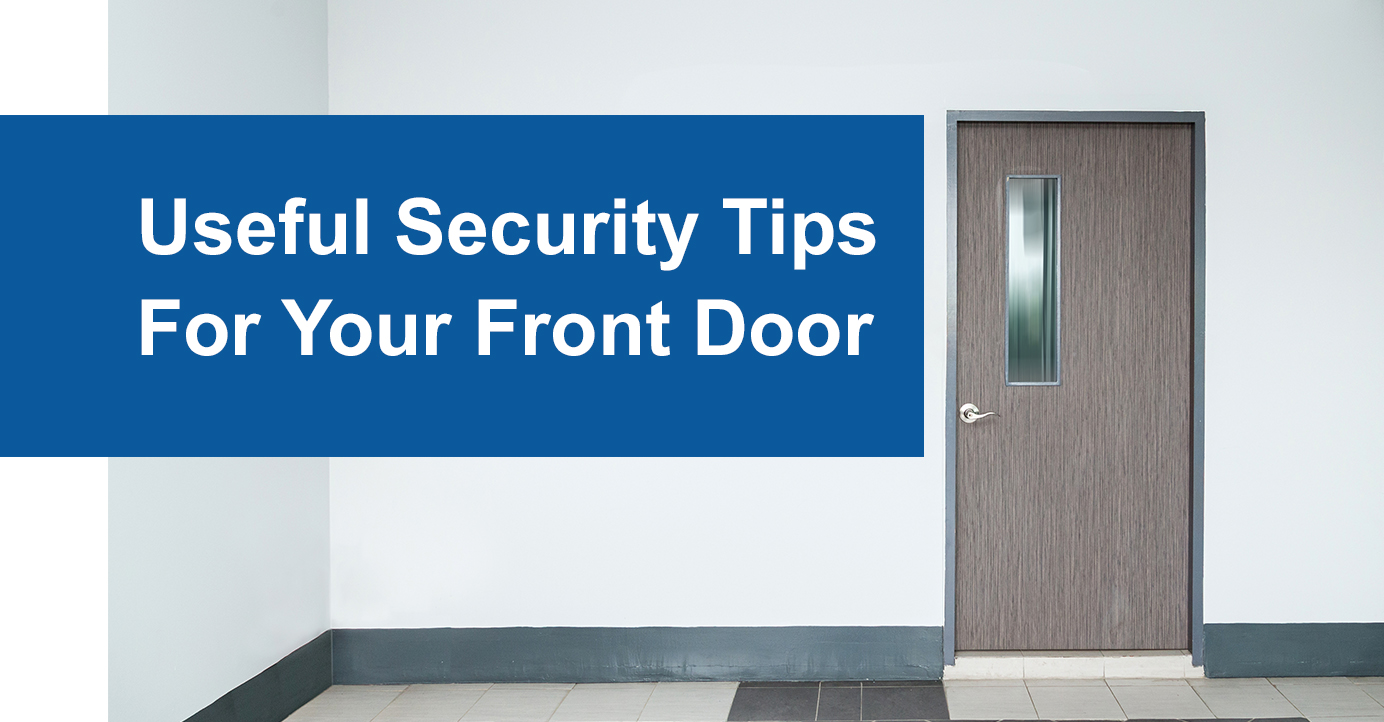 Ensuring the security of your home entails securing all points of entry. You need to keep everything fully guarded and impenetrable to offenders from the front door to the back door and all the windows. Your front door in particular, is considered as the easiest and quickest way in, so it's critical to make it as safe as possible.
The Security Specialists here at Safeguard Locksmiths compiled a list of useful home security tips for your front door.
USE LOCKS THAT CAN ONLY BE OPENED FROM THE INSIDE


Some experienced burglars can open your front door with a lock pick or a bump key no matter how solid your door is. This can be avoided by installing a one-sided deadbolt that cannot be opened from the outside. A heavy-duty latch or chain may also be used.

ENSURE THE DOORKNOB AND DEADBOLT LOCKS ARE SECURELY ATTACHED TO THE DOOR FRAME


The deadbolt lock and closing latch on your door knob normally only go 1.5inch into the door frame, this means the metal plates which the locks are inserted into are only loosely attached to the thin wooden door frame, and any experienced burglar would have no trouble kicking it in. Therefore, the most straightforward approach is to replace the screws that hold the metal plate into the door frame. Remove the short screws and replace them with longer screws that are 3 inches long. Longer screws can go all the way into the studs of your door frame, making it more difficult to break. For added security, you can also mount longer metal plates.

INSTALL A DOOR VIEWER


A door viewer, also known as a peephole, is a small hole drilled in your front door that is fitted with a wide-angle or fisheye lens. A wide-angle door viewer allows you to see through the door without having to open it. Once someone has opened their door, some intruders can force their way in. if the person on the other end is someone you don't recognise, you can choose whether or not to open it. This door accessory is inexpensive, simple to mount, and has proven to be effective in securing your home.

YOUR EXTERIOR DOORS MUST BE SOLIDLY CONSTRUCTED


Hollow-core doors and doors with decorative windows should be avoided. A solid wood, fibreglass, or metal door would last much longer and much better than a hollow-core door. There are just a few ways to break down a solid door, and no attacker would want to draw attention to themselves by breaking down the front door with heavy machinery. Your best option would be a sturdy wooden door, so firefighters can break them with an axe during an emergency situation.

KEEPING YOUR DOOR AND ITS COMPONENTS IN GOOD WORKING ORDER BY PERFORMING PREVENTATIVE MAINTENANCE


One of the best ways to ensure your door stays as secure as possible is to regularly maintain it. Check to see if everything is clean and if all your door's components are in good working order. Keep an eye out for signs of deterioration. It is probably time to change them if you have to jiggle the doorknob a little to get it to work.
While there is no 100% guaranteed way to prevent opportunistic people from targeting your home, the tips listed above will help you to increase the security of your home, protect your family, and give you a peace of mind. Just remember to be alert at all times and keep your doors and windows securely locked.
In addition to this, if you own high-value jewellery or a large sum of money, you can invest in a safe or deposit your valuables in a bank safety deposit box.
Hiring a specialist is another great way to ensure that the above-mentioned tips are followed correctly. Safeguard Locksmiths provide a comprehensive selection of Melbourne's best locksmithing services for all your security needs. Just give us a call on 1300 723 796 to discuss your requirements.