Codelocks CL4510 Smart Lock with Keypad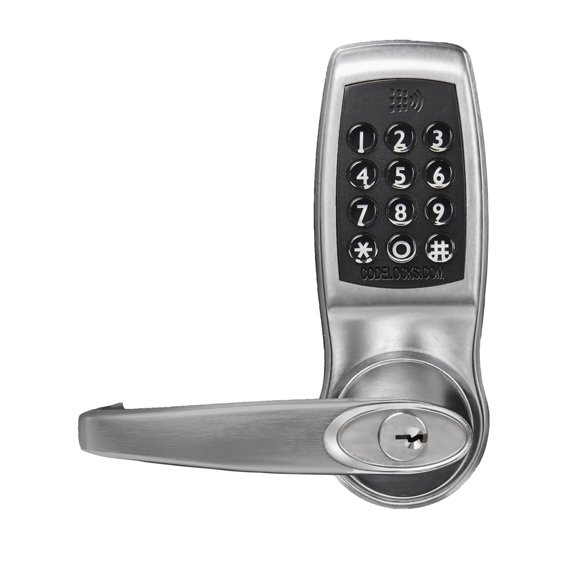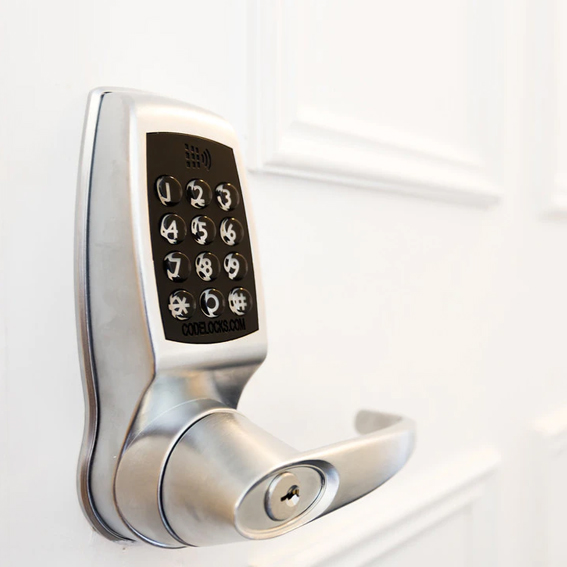 SPECIFICATIONS
Up to 350 Clients
100 Phone Clients
100 Client User Codes
150 Client Smart Cards
12 button back-lit keypad
Keyless entry – no lost keys
Date/Time sensitive NetCodes
Set up to 10 Code Free access periods
Suspend and Restore any or all Clients
Keypad indicates locked/unlocked status
Remote release by reception desk button
Tamper time out and low battery warning
Manage and operate locks via smartphone
Personal wireless connectivity for management
Mortice Latch and Mortice Lock available
The new CL4500 range of locks offer all the features and benefits as the CL5500 but in a smaller, stylish lock model. Managing and operating locks has never been easier.
The CL4500 smart locks offer advanced programming and access methods. The locks will suit any internal commercial applications. Operate and manage locks directly via the keypad or via a compatible smartphone by downloading the K3 Connect App.
Program locks via your smartphone, generate and send codes for easy access, issue smart cards for alternative entry.

STAY IN CONTROL:
Install the K3 App on a compatible smartphone. Controlling locks has never been so convenient. Manage all aspects of your lock from your smartphone. From basic settings to multiple individual access periods for each client.

CODE CARD PHONE:
Multiple access. The locks provide flexibility and convenience by providing a range of entry methods. Allow client access via a simple code, allocate and register a MIFARE® compatible card or send an invitation to their phone.

CONTROLLED CODE FREE:
Allow access at set times of day by setting the lock into Code Free mode. Removes the hassle of unlocking doors for free access periods. Reduce the administration burden of manually putting locks into Code Free mode. Create up to 10 different Code Free periods that automatically enable when scheduled. Code Free is used in many different situations – office hours only, cleaning staff, school break times.

NETCODE:
Control entry by generating time-sensitive codes which allow temporary access. Set codes for a specific date, time and duration. Send codes via email or SMS, the code will not work outside a designated timeslot.

AUDIT TRAIL:
Keep track on when and where the lock was accessed. Download and view the full lock audit trail data.


Other Keyless Digital Smart Locks Available

TRUST ONLY A CERTIFIED LOCKSMITH