Abus 83AL/45 High Security Titalium™ Padlock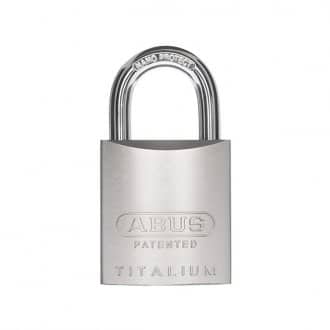 FEATURES
45 mm solid Titalium™ machined lock body.
Double ball locking.
Special alloy steel shackle with Nano-Protect™ plating.
25 mm shackle as standard.
8 mm shackle diameter.
24 mm horizontal shackle clearance.
Removable cylinder assembly for quick rekeying.
Incorporates the popular 570 6 pin style barrel.
Compatible with most restricted keying profiles.
Silca LW4 keyway.
Quick change shackle feature.
Easily converted from snap shut to key captive function.
Range of replacement shackles.
TRUST ONLY A CERTIFIED LOCKSMITH