Abus 83/40 Series Padlock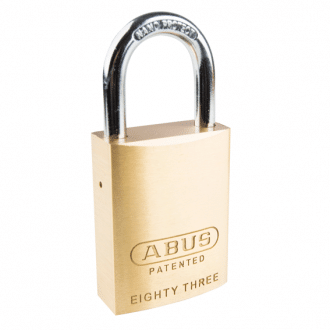 FEATURES
40 mm solid machined brass lock body.
6.4 mm special alloy steel shackle with Nano-Protect™ plating.
25 mm shackle as standard (range of replacement shackles are available).
23 mm horizontal shackle
Double ball locking.
Removable cylinder assembly for quick re keying.
Incorporates the popular 570 6 pin style barrel.
Silca LW5 keyway.
Compatible with most restricted keying profiles.
Quick change shackle feature.
Easily converted from snap shut to key captive function.
TRUST ONLY A CERTIFIED LOCKSMITH