Lockout Station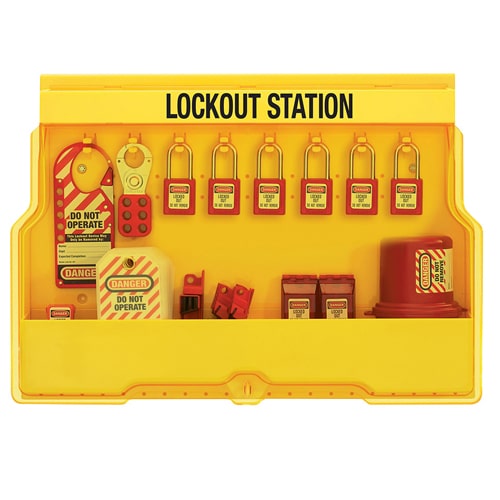 TRILINGUAL LOCKOUT STATION
The Master Lock No. S1850E410 Lockout Station is a large capacity station focused on electrical lockout.
It is equipped with 410RED Zenex™ Thermoplastic Padlocks, hasps, safety tags and high-use electrical lockout devices. The station comes marked 'Lockout Station' in English, with Spanish and French labels included for optional application. Designed for departmental lockout needs, the station includes 8 hanger clips that each hold 2 lockout padlocks or hasps, and holes at the bottom offer a place for pegs or hooks to hang bulky devices. Durable construction helps ensure long life in manufacturing facilities. The covered station keeps out dust and grime and can be locked with a combination padlock to limit access if needed. The station measures 596mm x 393mm x 114mm.
The trilingual lockout station includes:
(6) 410RED Zenex™ thermoplastic safety padlocks, keyed different
(1) 420 Steel Safety Hasp and (1) 427 Snap-On Safety Hasp
(1) S2005 Compact Plug Prong Lockout
(1) 488 Plug Cover
(2) 491B Circuit Breaker Lockouts
(4) 493B Circuit Breaker Lockouts
(2) 496B Wall Switch Covers
(2) 497A Danger Do Not Operate safety tags (12 tags/pack)
Zenex™ padlocks include trilingual labels for front and back with space to write-on personal details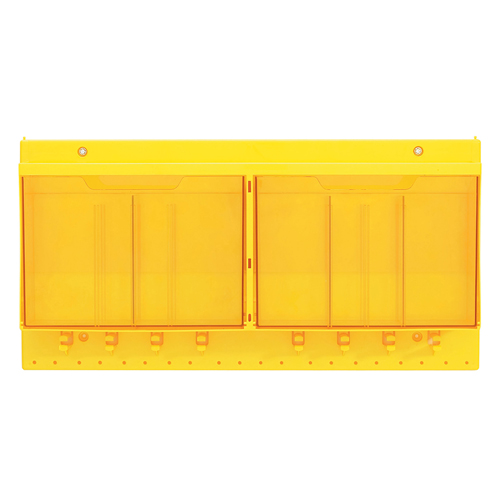 DELUXE TAG CENTRE
The Master Lock No. S1800 Deluxe Tag Center, unfilled, features durable construction to ensure long life in manufacturing facilities and covered compartments to protect devices and keep out dust and grime. Each compartment holds 25 tags and can also hold safety eyewear and ear protection. Eight hanger clips can hold safety padlocks or hasps and holes provided along the bottom for peghooks allow for hanging bulky devices.
The deluxe tag centre includes:
Two tip-out bins each have 3 compartments for lockout tags
Each compartment holds 25 lockout tags with a total capacity of 150 lockout tags
Compartments can also hold safety eyewear and ear protection
8 hanger clips can hold safety padlocks or hasps
Holes provided along bottom for peghooks, allows you to hang bulky devices below
Deluxe Tag Center measures 558mm x 279mm x 101mm
Each bin measures 254mm x 171mm x 88mm

Other Lockout Tagout Safety Accessories Available
TRUST ONLY A CERTIFIED LOCKSMITH