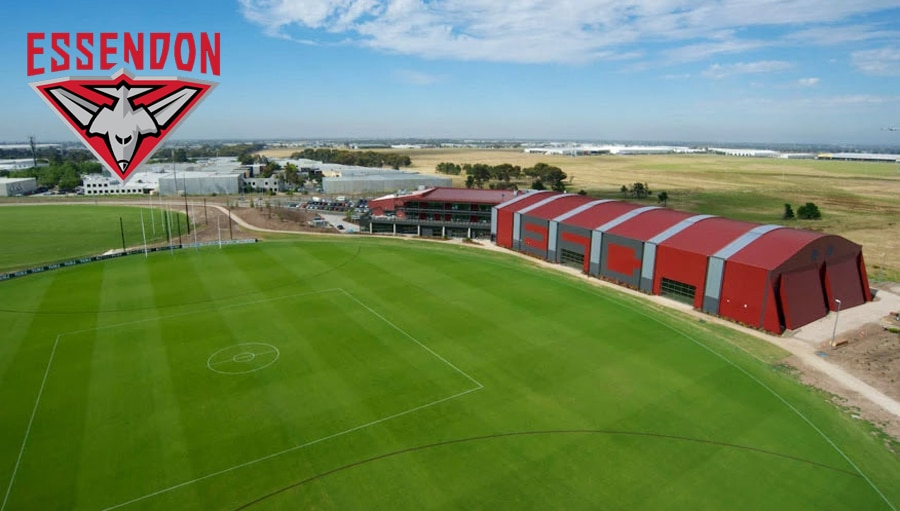 Essendon Football Club
The Hangar is the High Performance Centre of Essendon Football Club, it is located near the Melbourne Airport at Tullamarine. The venue is the new training and administration base of the Essendon Football Club after relocating from their traditional base, Windy Hill.
Formerly known as the True Value Solar Centre, the $27 million facility features two ovals – one the size of the MCG and the other one the size of Marvel Stadium, indoor training facilities and offices. The main oval has an estimated capacity of 2000, although games are currently not played on the ground. The smaller oval has lighting suitable for night match.
The Works include, but are not limited to the construction of:
Flexible, multimedia equipped community learning and program delivery spaces
Meeting rooms and community gathering spaces
Satellite health service delivery spaces
Girls and women's football development facilities, including unisex change rooms
Multipurpose recreation and training areas
Health and nutrition facilities
Dormitory style, fully accessible accommodation
Aboriginal and Torres Strait Islander and multicultural program and Next Generation Academy facilities
Location for the National Aboriginal and Torres Strait Islander Sports Hall of Fame
Safeguard Locksmiths master key team was relied on to provide a master key system that would service all the Essendon Football Clubs' security requirements. Our professional security advisers assessed all their specific needs and custom designed a high security master key system that delivered the ultimate in security and technology whilst meeting all their relevant security requests.
PAST PROJECTS PORTFOLIO:
Safeguard's experience with major projects is impressive.
Some of our past projects include:
The Hive
Residential Apartment Development
Thornbury, 8 Levels, 70 Apartments
Holme
Residential Apartment Development
Collingwood, 17 Levels, 160 Apartments
Will & Co
Residential Apartment Development
South Yarra, 10 Levels,70 Apartments
The Village
Residential Apartment Development
Cheltenham, 8 Levels, 170 Apartments
Pace of Northcote
Residential Apartment Development
Northcote, 8 Levels, 120 Apartments
Archer
Residential Apartment Development
Menton, 10 Levels, 90 Apartments
Living Carlton
Residential Apartment / Housing Development
1050 Apartments, 180 Units
Tullamore
Residential Apartment Development
Doncaster, 10 Levels, 110 Apartments
Elland Ave
Residential Apartment Development
Box Hill, 10 Levels, 105 Apartments
Lakehouse
Residential Apartment Development
South Melbourne, 9 Levels, 80 Apartments
808 Sydney Road
Residential Apartments
Brunswick, 9 Levels, 95 Apartments