Lockwood Keyless Wireless Digital Deadbolt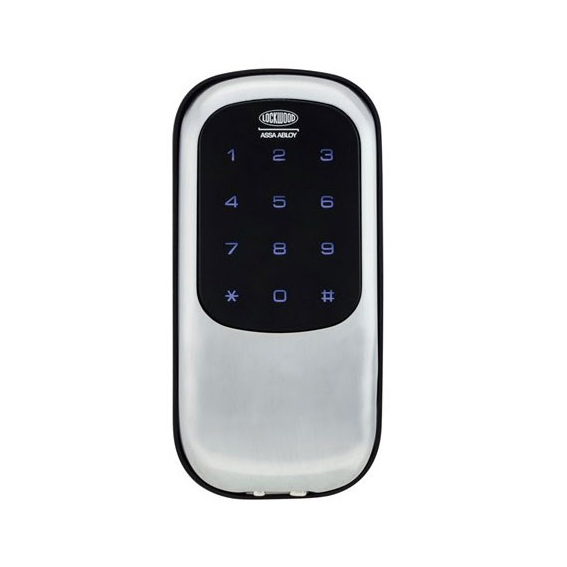 The Lockwood Keyless Wireless Digital Deadbolt offers the flexibility of a keyless entry locking solution whilst providing wireless ZigBee (HA1.2) network connectivity to integrate into building automation solutions. It features a master pin code that controls up to 250 user codes, voice guided programming, low battery warning and many more features for your safety and convenience.
Ideal for use on new doors or as a replacement on an existing door lock on your home, the Lockwood Keyless Wireless Digital Deadbolt is also suitable for internal and light commercial doors such as storerooms and shop fronts.
Safety – Never carry keys
Keyless PIN code access ensures security whilst away and allows people entrusted with a PIN code to gain entry with the simple push of a button.
Security – Resting easy all night long
Privacy mode provides ease of mind by disabling the keypad to ensure that no one can enter the property from outside while you are sleeping.
Remote Management – Remote access control
The Keyless Wireless Digital Deadbolt lock status can be viewed and controlled via a PC, Notebook, Tablet or Smartphone. Simply lock or unlock your door from anywhere in the world.
Receive a text message or email alert when the door is accessed to know that your loved ones have arrived home safely (when integrated with Remote Management Software).
Convenience – Trigger other devices
Integration with Remote Management Software will enable you to turn on other devices when you open the door using your unique PIN code including:
Unlock all doors
Turn on the interior house lights
Turn on the TV
Adjusts the thermostat to 21°C
Close the curtains
Control – Building automation & integration
The Lockwood Keyless Wireless Digital Deadbolt has been designed to easily integrate with a variety of wireless building control and security systems when used with ZigBee HA1.2 wireless network module. Remote management puts you in control of protecting what is valuable to you from anywhere and at anytime.
SPECIFICATIONS
Installation
25mm latch hole and 54mm lock hole
Front & Back Escutcheon
High purity zinc alloy
Back Plate
Hardened steel
Backset
Adjustable 60mm or 70mm
Bolt
Zinc alloy 25mm projection
Internal thin doors
Plastic gasket (32mm-36mm)
External thick doors
Rubber weather resistant gasket (37mm – 50mm)
Finish
Powder Coated Silver for Satin Chrome
LOCK FUNCTIONALITY
Wireless Network Connectivity
This product can be integrated with building automation systems when used with ZigBee HA1.2 wireless network module. When connected to a network the lock can be controlled remotely.
Illuminated touch screen keypad
The touch screen keypad has no mechanical buttons which means no trace of your secret pin code.
Pin Code Allowance
One master pin code will manage up to 250 user codes when used with a wireless network module or 25 user codes when not networked.
Voice Guided Programming
Voice Guided Programming will audibly provide step by step programming instructions.
One Touch Locking
Conveniently lock your door by simply touching the keypad or use the automatic locking function.
Low Battery Warning
When battery power is below 30%, the low battery icon will begin flashing.
Tamper Alert
An audible alarm sounds if attempting to forcibly remove outside lock from door.
Automatic Re-locking
This selectable feature will automatically extend the bolt into the locking position after a 30 second delay.


Other Electronic Keyless Locks Available

TRUST ONLY A CERTIFIED LOCKSMITH